Avast VPN Review
Some of our stories include affiliate links. If you buy something through one of these links, we may earn an
affiliate commission.
Privacy is a rare commodity these days, especially online. Big Brother Google knows what you did last summer and where, unless you are using a VPN. Avast Secureline VPN is a subscription-based service that comes from one of the more prominent names in the world of cyber security.
It might not be the best service in its price range, but Avast VPN offers top-notch security with specialized P2P torrenting servers and a user-friendly interface. The main drawbacks include a minimal number of servers and decidedly average connection speeds. Read our Avast VPN review to find out more.
Show More...
SPECIFICATIONS
Kill switch
AES 256 bit encryption
DNS leak protection
Specialized P2P servers
Separate servers for anonymous P2P sharing
No log policy
Multiple connection protocols
No split tunnelling
Few servers
Main Features
A good VPN service has to be fast, provide a large number of secure servers, and include a reassuring privacy policy, especially when it comes to data collection.
Server Speed
Let's start by answering the question that most people ask when picking a VPN: to what extent will using Avast Secureline slow down my Internet connection? We tested the Avast VPN download and upload speeds by connecting to various servers around the world over a period of several days.
The testing was conducted from our Belgarde office, so naturally, locations in Europe scored better than those in the US or other continents. While testing US-based servers, we experienced crippling drops in speed only with the ones on the West Coast, which is expected considering the distance. Meanwhile, Russian-based servers performed better than those in the UK. Here are the most notable results from our Avast Secureline VPN multi-device tests, cataloged from the fastest to the slowest.
To begin with, here is our base speed without VPN:
Our first and fastest virtual trip took us to Paris:
Followed by Saint Petersburg, Russia:


A UK server based in London:


Next up, a few locations in the US, starting with New York:
Los Angeles:
Moving continents to Johannesburg, South Africa:
And then to the land of the rising sun in Tokyo, Japan:
We followed the hobbit trail all the way to Auckland, New Zealand, and the results were predictably grim:
We agree with most of the Avast VPN reviews that describe Avast Secureline as a decidedly average service when it comes to speed. Popular servers such as the one in London tend to underperform, showing consistently worse results when compared to servers with similar distances from our testing location.
Server Selection
Another notable downside to Avast's VPN, especially when compared to competitors like NordVPN, is the limited number of available servers. While leading VPN providers offer thousands of servers worldwide, Secureline VPN only provides around 700. On the plus side, the servers are located across 55 different locations in 34 countries, and there was never an instance when we couldn't connect to one of the available servers. We factored all of this into our Avast VPN rating.
There are 16 servers in the US, three in the UK, and two in Canada, Germany, Russia, and Spain. This includes three dedicated P2P servers in the US and one in the Czech Republic, France, Germany, Netherlands, and the UK. Despite the low numbers, the servers are located in enough countries around the world to cover most people's needs.
Security Features
Avast security is top-notch, which is to be expected from a company with a long history in antivirus and cyber security solutions. Avast's VPN platform is based on software by one of the oldest names in the VPN industry, HideMyAss (HMA). The company became a subsidiary of Avast in 2016, a partnership that spawned Avast Secureline. HMA is still offered as a separate service, but Secureline is essentially based on the same framework.
Our Avast Secureline VPN review affirms that the company uses military-grade 256-bit AES encryption to protect your data. There are two protocols available, depending on the operating system that you use. macOS and iOS users will connect through IPSec/IKEv2, while people on Windows and Android will use OpenVPN.
The older Point-to-Point Tunneling Protocol (PPTP) is also supported. However, Avast Secureline doesn't officially support direct router configuration. That means that when using Avast's VPN, your router cannot be configured automatically.
If the router supports OpenVPN or IPSec/IKEv2, you should be able to manually configure the VPN connection with your user credentials from the desktop or mobile apps. A router-level configuration makes VPN access from multiple devices on a network much quicker than individually setting up each device.
Another important characteristic of any good VPN service is DNS leak protection, and we're happy to report that Avast is a secure VPN solution in this regard. HideMyAss famously had issues with this particular feature, but Avast Secureline fares far better. When you activate Avast Secureline VPN, you can rest assured that your real IP address and other data won't be leaked.
We tested Avast on multiple computers, using popular sites such as Ipleak.net, Dnsleak.com, and Ipx.ac/run to determine whether our DNS, IPv4, or IPv6 addresses were being leaked. The sites only picked up the location and IP address of the VPN server, proving that DNS leak protection is working. Unfortunately, the same cannot be said for split tunneling, as you are currently unable to route select traffic through VPN while other traffic goes through your standard network connection.
Another feature worth mentioning in our Avast VPN review is the software's kill switch. Most VPNs have a kill switch these days because even brief VPN connection cuts can expose your actual IP address and other private data. Once the kill switch is turned on, Secureline VPN will automatically disable Internet access until a VPN connection is reestablished. The kill switch works well whether you use Avast Security for Mac, PC, iOS, or Android.
Privacy Policy
The Avast VPN logging policy was highly controversial in the past. The company claimed to have a strict no-logs policy, but in addition to the duration of each VPN session and the bandwidth used, Avast also logged the user's originating IP address. You can see how this could be a problem, especially regarding Avast Secureline VPN torrenting. The user's actual IP address, which would have to be turned over to authorities on demand, is the very thing a VPN is designed to hide.
We're pleased to report that the company no longer engages in such practices. Some data, including the bandwidth used and the duration of each VPN session are still being logged, but your IP address is safe.
This brings us to another important point. Unlike many other providers, the company is very open about the information it logs and why. Even so, make sure to read and understand their privacy policy before you activate Avast Secureline VPN.
User Experience
The overall user experience is just as necessary as security, privacy, and connection speed. It's important to know what devices and operating systems the VPN works on, how organized and intuitive the user interface is, and whether there is a mobile app. Users also need to know if the app supports P2P file sharing/torrenting and whether it can bypass geo-blocked content.
Supported Platforms
Our review of Avast's VPN service would be incomplete without the list of platforms that support Secureline. In addition to PC and Mac, the software also works on Linux. There are also dedicated apps for Android and iOS users, and the app even supports somewhat depreciated systems such as Symbian and Windows Mobile. The user interface on PC and Mac has a very clean and simple design. Connecting to a recommended server takes a single click, and changing servers is very easy, too. The collapsable Preferences menu is where you can find most of the program's settings.

Mobile App
The Avast mobile app is highly efficient regardless of whether you're using Avast for iPhone, Android, Symbian, or Windows Mobile. It also gets high marks for navigational efficiency. Connecting to your first server and changing servers takes just a few screen taps.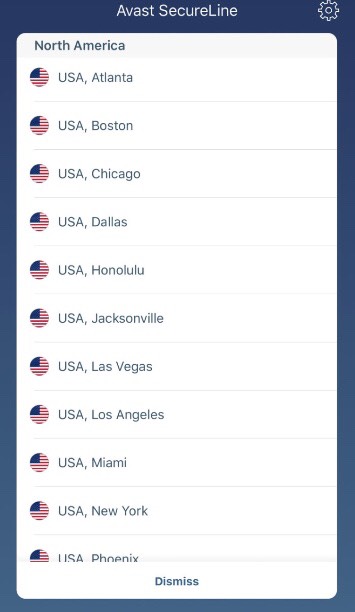 According to Avast reviews, one notable downside to using the mobile app is that the free trial requires you to share your credit card details. It's worth noting that the Avast trial for PC and Mac devices doesn't require that information. The Avast VPN trial includes a full seven days of unrestricted VPN access regardless of the device you use.
P2P and Torrenting
When it comes to P2P file sharing, Avast has several servers that allow torrenting. The server selection has a separate P2P section, housing servers from the Czech Republic, France, Germany, Netherlands, the UK, and three servers in the US (Miami, New York, and Seattle).
Streaming Services
If you're relying on our Avast Secureline VPN review to learn about the streaming options, we have some good and some bad news. While the program has a dedicated streaming section, with three servers in the US and one in Germany and the UK, streaming services don't always work.
Many who tested Avast's VPN on Reddit and similar public forums can confirm that some services are more reliable than others. Take Avast Secureline VPN and Netflix, for example. The US and German versions worked well during our review process, while the French and Japanese ones kept coming up with proxy or unexpected error messages.
While using Avast's VPN with Netflix was a bit of a hit-and-miss experience, Hulu didn't work at all. BBC's iPlayer worked on one UK server (UK Wonderland) but not others.
Streaming services are getting smarter at recognizing and blocking VPN connections, and Avast Secureline is no different. Sometimes it's just a matter of trying a bunch of different servers until one works. If we look back to the NordVPN vs Avast rivalry, the former is a clear winner in these situations, as you have a much larger pool of servers try out.
Customer Support
We've already covered most of the software's features in our Avast VPN review. But what happens when you need technical assistance? Unfortunately, there is no live chat service available on the website, but Avast has a comprehensive FAQ and Knowledge Base along with active user forums where you can usually find all the help you need. There is also a standard ticket system for sorting out issues related to your Avast VPN license, subscription, and more.
Based on our experience, customer support agents are very helpful and relatively quick in responding to queries. However, don't expect instant help, as responses can take up to 48 hours.
Pricing
When it comes to Avast pricing, the company offers several deals if you purchase some of its other products. If you're only interested in the VPN, you can sign up for one, two, or three-year subscriptions for up to 10 devices.
Without an Avast Secureline VPN discount, an annual subscription for one device will cost $59.88. The price goes up to $95.76 for two years and $143.64 for a three-year subscription.
There is also an Avast free trial available. You get to use the full version of the program for an entire week, and unless you're using the mobile app, you won't need to divulge your credit card details.
If you've already signed on for an Avast subscription but are having second thoughts, the company offers a 30-day money-back guarantee. There is a catch, though, so make sure to read the terms and conditions carefully. If you connect to the program 100+ times or upload/download more than 10GB of data through VPN during those 30 days, the money-back guarantee is no longer applicable.
Related Products
Avast is best known for its antivirus solutions. In addition, the company offers a line of performance-oriented solutions such as Avast AntiTrack, Battery Saver, Driver Updater, and Cleanup Premium. There is even an Avast ad blocker included in their Secure Browser app for mobile phones.
If you're just looking for a good VPN solution, you probably won't need any of these other programs. On the other hand, if you want to upgrade your antivirus with VPN and various cleanup tools and you wish to cut down on the extra cost of Avast Secureline VPN software, you can choose the company's ultimate bundle. For an annual fee of $99.99 (one PC) or $119.99 (up to ten devices), you can get an Avast Secureline VPN license in addition to their Cleanup Premium and Premium Security packages.
Alternatives
A lot of reviews for Avast's VPN solution suggest that there are better options on the market. But is that really the case? Many people are genuinely interested in figuring this out. That would certainly explain frequent Google searches such as Avast VPN vs NordVPN and Avast VPN vs ExpressVPN. Here is a rundown of some of the competing offers.
How Does Avast VPN Compare to Other VPN Services?
Kill switch
AES 256 bit encryption
DNS leak protection
Specialized P2P servers
Average speeds up to 600 Mbps
5800+ servers
Ad blocking
45-day money-back guarantee
WireGuard VPN Protocol
No Logs policy
5,600+ servers
Ad blocking
Split tunneling
Multi-factor authentication
Dedicated IPs
As you can see, most competitors have significantly more servers and cover more countries. Furthermore, most have a built-in ad-blocking functionality, split tunneling, and multiple switchable IP addresses for their servers, along with other advanced options.
Avast VPN's cost places the software roughly in the middle of the pack, with Nord and ExpressVPN costing more, while CyberGhost, Surfshark, and VyprVPN are cheaper. As with other providers, the final Secureline VPN cost depends on multiple factors, but other providers tend to give steeper discounts on long-term subscriptions.
Conclusion
Most Avast software reviews conclude that Secureline VPN is a somewhat middling product. There are faster and cheaper solutions out there. But the software still offers a solid set of features for a very affordable price. It also makes up for its low number of servers by functioning well on both computers and mobile devices.
As long as you don't try installing Avast VPN on Firestick or your old black and white TV, the software will work on just about any operating system and platform out there. The user interface is also excellent. Despite the absence of the live chat option, the combined efforts of customer support agents, online forums, and Avast's knowledge base should see you through any troubles you may encounter.
Recommended Reviews for You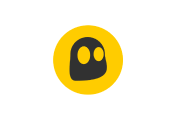 FAQ
It protects your privacy by hiding your actual IP address. It also allows you access to geo-blocked content by connecting to servers located in the relevant countries.
Yes. Avast Secureline routes your device's connection through its private servers rather than your internet service provider (ISP), so any data transmitted through the internet comes from the VPN rather than your computer. You can check out our Avast VPN review for more details.
Yes, but cybercrime activities such as torrenting copyrighted material are not.
Can you be tracked if you use VPN?
Yes, because you can be tracked through more than just your IP address. But unless you have malware installed on your computer or the VPN provider is forced to turn over records to authorities, your private data is safe from prying eyes.
Leave your comment
Your email address will not be published.