Stay Current - Pick the Best Surge Protector for Your PC
Some of our stories include affiliate links. If you buy something through one of these links, we may earn an
affiliate commission.
Thunderstruck is a great song. It's not a great state for your precious hardware to be in, though. The Aussie legends from AC/DC are not ones to shy from high voltage, but even they'd advise you against shaking your PC all night long. Avoid the electrical highway to hell by getting the best surge protector for your PC.
We're spending more and more time on our PCs: whether it's playing video games, browsing the Internet, or working on them, we're pretty much pasted to our computers, and that's when current spikes can hurt the most. Don't worry. We've done the homework - all you need to do is pick your favorite and plug in.
Show More...
Tripp Lite TLP1008TEL
Surge protection rating
2,395 joules
Clamping voltage
400 volts
Bonus features
Automatic shutoff and tel/DSL protection
15A resettable circuit breaker
Plenty of outlets
Lifetime warranty and $150,000 connected equipment insurance
Let's start off with our favorite. The TLP1008TEL may not be the strongest or the most exciting model on our list. But what makes it our favorite - and the best surge protector for PC - is its blend of affordability, a wealth of features, and a generous warranty.
This 10-outlet surge protector can absorb up to 2,395 joules of energy, and when that threshold is reached, it features a circuit breaker that automatically cuts power to your devices. It activates from 400 volts onwards, and a diagnostic LED light lets you know whether everything is working properly.
As with all the best-rated surge protectors, there are plenty of additional features to mention. In addition to 10 power outlets, there are also three passthrough ports for phone and DSL cables or coaxial cables. Although there is no network (ethernet) protection, the eight-foot cable is great for people who need a surge protector with a long cord, while the design with six close and four spaced-out outlets is great for oversized plugs.
The best feature, however, is the lifetime warranty and coverage of up to $150,000 should your connected equipment get damaged while using the Tripp Lite TLP1008TEL. We should also mention the excellent USB ports and tough build. Considering the multiple levels of protection and fairly affordable price, it's little wonder that the TLP1008TEL is often recommended as the best surge protector on Reddit. It's a great piece of gear that won't let you or your expensive electronics down.
APC P11VT3 11-Outlet Surge Protector
Surge protection rating
3,020 joules
Clamping voltage
330 volts
Bonus features
Tel/DSL and network protection and pivoting cord
Very versatile
180-degree rotation pivoting cord
Lifetime warranty and $100,000 connected equipment insurance
Warranty conditions are vague
APC is a well-known brand when it comes to surge protectors and smart power strips. The model we'll be looking at is similar to the Tripp Lite TLP1008TEL in many ways, and despite not being as affordable as some other models on our list, it offers plenty of bang for your buck.
For starters, the surge protection is rated for 3,020 joules and boasts a clamping voltage of 330 V.
Much like the TLP1008TEL, our best surge protector of 2022, the APC P11VT3 "SurgeArrest", provides protection for more than just your power supply and monitor. In addition to the six spaced-out outlets for wider plugs and five tightly grouped ones for standard ones, the P11VT3 also features three tel/DSL inputs, as well as two network ones. There is some debate as to the usefulness of an ethernet surge protector, but it certainly can't hurt to have the option.
P11VT3 is an excellent choice for people who like a power strip with a long cord. The 8.01 ft. cable is a feature worth mentioning, as it has a flat end and 180-degree pivoting, making it easy to manipulate. This and the mounting holes make the P11VT3 one of the best wall-mount surge protector offerings on the market.
The multitude of LED indicators to help you with troubleshooting is also something to take note of. Finally, there's the $100,000 insurance and lifetime warranty, although APC is a little light on the details about how exactly the insurance works. Nevertheless, this APC surge protector is a solid purchase.
HOLSEM 12-Outlet Surge Protector
Surge protection rating
Clamping voltage
Bonus features
USB charging ports, double-break overload switch
Excellent surge protection rating
Flame-retardant material and 24-month warranty
Three USB ports and 12 outlets
This 12-outlet surge protector provides a lot of power, has three extra USB slots, has a two-year warranty, and comes in a flame-resistant casing. Unfortunately, the central power outlets are close together, and it's missing concrete info on the clamping voltage.
As the best power strip surge protector on our list thus far, it has a protection rating of 4,000 joules and supports up to 1,875 W of power.
In addition to the 12 outlets (which should be enough to plug in just about every device you need), there are three USB ports (two at 3.1A and one at 1A charging speed). It is possibly the best heavy-duty surge protector in its price range, but it's not perfect. The outer six outlets are nicely spaced out, but the central ones are very tightly packed. Considering how many devices you can pack into this surge protector power strip, it's a shame that the cable is only six feet long.
In addition to having a flame-retardant casing, the HOLSEM 12 has a double-break overload switch. While this surge protector comes with a 24-month warranty, it doesn't offer insurance for other damaged devices.
Overall, this is a great USB power strip with excellent surge protection capabilities. It has enough juice to power even the strongest of gaming PCs while hosting additional protection for up to three USB connections. We wish the cable was longer and the central outlets more spaced out, but you can't have it all.
AmazonBasics 6-Outlet Surge Protector
Surge protection rating
1,000 joules
Clamping voltage
800 volts
Very affordable
Room for one oversized plug
Fairly portable
High clamping voltage and weak protection rating
Yup, Amazon also makes multi-plug outlet surge protectors. With this six-outlet surge protector, you get what you pay for - it's pretty good value for the money, but the low price only gets you so much protection.
Our surge protector reviews have thus far looked at some pretty high-end models. AmazonBasics, as the name implies, caters more to budget-minded consumers. Its 1,000-joule protection rating and 800 volts of clamping mean that this 6-outlet surge protector is a solid option for plugging in several smaller devices like mobile phones, but it's far from ideal for sensitive high-power equipment such as gaming PCs.
It might not be a top-tier product, but at under ten bucks, this is certainly one of the best cheap surge protector options on the market. As such, don't expect much in the way of extra functionality - there's a standard six-foot cable, five standard outlets, and one that fits oversized plugs. There is an LED indicator but no option to cut power when the surge protection wears out, so you should definitely pay attention to that little light.
This is a budget product, which means there are no fancy bells and whistles here, and it comes with no warranty. The high clamping voltage does mean a longer lifetime, but it almost makes this model a glorified Amazon power strip.
That said, less demanding devices and appliances such as mobile phones and desk lamps will still appreciate the added protection. Just don't go plugging your $3,000, 1,000 W gaming machine into it.
Belkin BP112230-08 12-Outlet Surge Protector
Surge protection rating
4,320 joules
Clamping voltage
400 volts
Bonus features
Pivoting surge-protected outlets and coaxial protection
Pivoting side outlets and durable casing
Lifetime warranty and $300,000 connected equipment insurance
Long cable and cable trap
Much like APC, Belkin is a well-known maker of dependable surge-protected extension cords, power banks, and other electronic equipment. The BP112230-08 is a 12-outlet power strip with almost industrial-grade surge protection, excellent clamping voltage, a solid cable, and plenty of extra features.
This heavy-duty surge protector comes with 4,320 joules of power and 400 V of clamping voltage. This means that it will keep even the most sensitive of equipment safe, although triggering at lower voltages will also reduce its lifetime.
Eight outer outlets have the ability to pivot, making this the best surge protector for Mac computers or laptops, which often have oversized plugs. In fact, it's one of the best designs we've ever seen on a surge protector, featuring only four non-movable outlets while having a durable, damage-resistant casing and smart-cable management for its eight-foot cable.
In addition to the 12 power outlets, this Belkin surge protector also has pass-throughs for coaxial and telephone/DSL cables but no USB ports. There is no kill switch either, so once your surge protection is out, you'll want to replace the whole system to be safe.
The BP112230-08 is perhaps the best laptop surge protector on our list. But it's more than that. In addition to the sturdy construction and powerful protection rating, it also comes with a fantastic $300,000 connected equipment warranty and a lifetime warranty for the Belkin power strip itself.
This isn't a cheap product, but you're really getting what you pay for. The lack of a kill switch on a piece of equipment costing over 30 bucks is a bit disappointing, but considering the fantastic construction, unique features, and robust warranty, the Belkin BP112230-08 is still an easy recommendation.
APC SurgeArrest P12U2
Surge protection rating
4,320 joules
Clamping voltage
330 volts
Bonus features
USB charging ports, safety shutters, rotating cable
Excellent protection and low clamping voltage
Good USB protection
Flexible cable
It's no accident that we have two APC models on our list. The Schneider Electric brand has a great line of surge protectors and outlet extenders, and the P12U2 is no exception. With powerful protection, plenty of outlets, low clamping voltage, and some innovative ideas, there's a lot to like here.
First off, much like HOLSEM's 12-outlet surge protector, this is a sturdy multi-plug surge protector with a protection rating of a massive 4,320 joules and a clamping voltage of 330 volts. The two are close contenders for the title of the best surge protector for high-end PC platforms, but we prefer the P12U12's certified 330 V clamping voltage for added peace of mind.
The 12 outlets are all protected with safety shutters and arranged in an interesting manner: two rows of four closely packed outlets on each side, with two more for oversized plugs on each side. The central part has two 2.4A USB outlets, keeping you safe from a power surge on a USB port. There is also a very stylish system for notifying you about the state of surge protection - a set of green LED letters spells PROTECTED on the plastic on the top-right corner of the brick.
When picking the best surge protector for your PC, every little detail matters. While it's great that this model has a flexible cable with a rotating shoulder, it would be nicer if it were a little longer. Similarly, while you may be eligible for up to $300,000 dollars in connected equipment damage, there is a sketchy 10-day claim policy, which is much lower than the typical 30 days that most manufacturers provide.
Overall, though, this is another very solid surge protector from Schneider Electronics. It is powerful, dependable, and has USB protection as well.
TP-Link Kasa Smart Wi-Fi Power Strip HS300
Surge protection rating
1,710 joules
Clamping voltage
330 volts
Bonus features
USB charging ports, remote-controlled outlets
Remote control and app support
Excellent clamping voltage
USB charging ports
High price and short cord
Here's something a bit different. TP-Link is a company renowned for network-related gear such as modems and routers. The Kasa Smart Wi-Fi Power Strip is neither the most powerful nor the most affordable surge-protected outlet extender on our list, but it certainly provides the most advanced features around.
Let's start with the basics. For a 6-outlet power strip with surge protection, 1,710 joules is decent, but it's not a great amount of protection. A low clamping voltage of 330 V is, however, very welcome for protecting your sensitive computer gear.
These are certainly nice specs, but the HS300 is one of the top-rated power strips for different reasons. Each of its six outlets can be remotely controlled via Google Assistant or Amazon Alexa. You can also use the provided app to group the outlets and determine when they will turn on or off, depending on your needs. The HS300 also comes with three handy 5A USB charging ports and the option to monitor the energy consumption of your devices via an app.
So far, so good, right? Well, there are a few slight inconveniences that stop the HS300 from being the best surge protector for your computer. Namely, if we ignore the more durable models out there, price is another issue. All this fancy smart tech doesn't come cheap, so be prepared to fork over twice the amount you'd pay for non-smart, high-end surge protectors. Also, the cable is woefully short at only three feet, but if you're primarily using this as a computer/home theater hub, that shouldn't be a problem.
Overall, this smart surge protector is a fantastic piece of gear that will make you feel like you're already living in the future, so paying a little extra for it and dealing with a slightly shorter cord seem like decent tradeoffs.
Austere Power VII Series
Surge protection rating
4,000 joules
Bonus features
Five USB ports, braided cable, thermal outlet protection, EMI/RFI noise filtering
Beautiful design and excellent build quality
Strong performance
PureFiltration system
It's hard to tell which is the best power strip for computer use.
The Austere Power VII Series costs almost ten times what some really solid competitors retail for and 20 times the price of some basic models such as the AmazonBasics 6-Outlet Surge Protector. But what does all that money get you, and is it a worthwhile deal? Let's find out.
First off, the unit has a surge protection rating of 4,000 joules - a class-leading performance for a 6- outlet surge protector. Unfortunately, there is no information anywhere on the clamping voltage, but considering the price and specs, we are going to assume it's either 330 V or 400 V. At nearly 200 bucks, this isn't going to be voted the best surge protector for PC on Reddit or similar forums anytime soon, but it does have some features that try to justify the steep price.
There's the sleek brushed aluminum construction, flame-resistant MOV circuits, and thermally protected outlets. The Austere VII also features EMI/RFI filtration called PureFiltration, which provides better clarity for your video and audio devices by insulating the signal from noise and artifacts, such as those caused by power fluctuations.
If you're looking for a surge protector with USB charging, Austere has you covered. There's a 45 W USB-C PD port for charging laptops and other smart devices, two more USB-C ports, and two USB-A ports as well. This makes it probably the best power strip for a laptop if you're not on a budget and one of the best surge protectors for USB-powered devices in general.
Finally, unlike most other competitors on the market, the Austere VII comes with a stylish and sturdy woven cable called WovenArmor. The only concern here is that the cable is only five feet long, which may be too short for some people.
A surge protector's build quality is important. In that regard, Austere has got you covered.
Along with the other premium features, you really feel that you're getting a unique and solid product. Whether the significant price mark-up is a worthy tradeoff for such luxury is up to you to decide, but nevertheless, the Austere VII is surely a quality product.
Belkin Single Outlet SurgeCube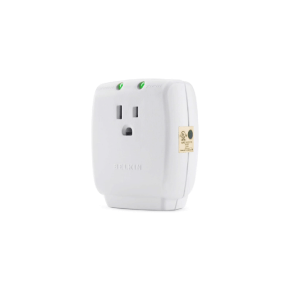 Surge protection rating
885 joules
Clamping voltage
400 volts
Portable
Good protection for the size
LED indicators and RFI filtration
Doesn't offer much for the price
There is a reason why Schneider Electric and Belkin have two models each on our list. The SurgeCube wall surge protector is Belkin's smallest and most affordable product, so while you shouldn't expect miracles, this is still a great portable surge protector that will cost you less than a trip to McDonald's.
First off, the basics. This is a super-portable surge protector outlet that clamps onto your existing outlet on the wall, with no cables needed. For such a small device, it has an excellent 885-joule protection rating, but don't expect it to last for ages. In fact, it's the best small surge protector around if you're looking for good protection in a super-portable package.
That said, the accent is on this being a very small surge protector. It's a portable budget portable product, so don't expect much in terms of extra features. There are LED indicators to let you know that your devices are grounded but no fancy extras like USB chargers or kill switches. It does, however, feature 150 kHz-100 MHz RFI noise filtration.
The SurgeCube may not be the most powerful or feature-rich surge protector for your computer, but the mix of portability, good protection, and affordable price makes it an easy recommendation for anyone who needs protection on the go. It's not exactly the best surge protector for a gaming PC or a high-end audio system, but that wasn't the intention anyway.
Top 5 Surge Protectors for Your PC
Tripp Lite TLP1008TEL

APC P11VT3 11-Outlet Surge Protector

HOLSEM 12-Outlet Surge Protector

AmazonBasics 6-Outlet Surge Protector

Belkin BP112230-08 12-Outlet Surge Protector
Our Evaluation Method for PC Surge Protectors
Surge Protection Rating
The first thing we consider when evaluating top-rated surge protectors is how much power they can absorb. This is done by looking at the surge protector joule rating. MOVs have a lifespan that depends on how much excess power they divert from your components. The math is very simple here - the more joules your surge protector rates at, the longer it's likely to work as advertised without turning into a glorified power strip.
Clamping Voltage
Clamping voltage refers to the voltage that activates the surge protector. The alternating current usually sits at around 120 V but can cycle anywhere from -170 to 170 V. Top surge protectors have this value at around 320 V and up, with the lower numbers obviously being safer but leading to a shorter lifetime for your surge protection. Remember that your electrical devices are rated to survive somewhat higher short peak voltages compared to their average working requirements. Still, in order to be safe, a power surge protector will often come with a circuit breaker, which protects your gear by killing power to it should the surge be too powerful to handle.
Number of Outlets
A basic consideration when picking a power bar or surge protector is how many electrical outlets it has. A good surge protector for a gaming PC will have at least six, although depending on your needs, you may opt for one with more. Remember, your power supply and monitor will need one, as will most serious speakers. While most peripherals such as headphones, microphones, keyboards, and mice are powered by your PC's USB ports, you also need to power your router, and most people will want to have a phone charger plugged in and protected, too. Having 10 or 12 outlets is usually overkill, but extra options can't hurt.
Usability and Bonus Features
For the most part, a surge protector is just an advanced power strip: an electrical outlet extender that also protects your devices from power spikes and surges. In addition to factors such as cable length and whether your surge suppressor comes with mounting holes, there are also bonus features to consider. The best surge protector models come with additional functionalities, such as USB charging or outlet pivoting, which lets you protect USB-powered devices directly or accommodate oversized plugs.
Price and Value
The final consideration when buying surge protection is the price and value for money that you are getting. Surge protectors are fairly cheap for the most part, starting at around ten bucks and going up exponentially. More advanced models with higher-quality MOVs and advanced features are obviously going to cost much more, though.
There are even models out there for professional audio equipment that have effectively unlimited lifetimes, but be prepared to pay much higher premiums for those. The best surge protection for your PC will obviously depend on the kind of rig you have, but be aware that even the most expensive models tend to be much cheaper than even the cheapest high-end gaming components that they are there to protect. Controllers, speakers, and high-end GPUs may be fun, but they can quickly become paperweights without adequate protection.
FAQ
What is the difference between a power outage and a power surge?
Power surges are sudden voltage spikes. They can occur due to electrical storms, power grid malfunctions, and, yes, even power outages. They are, however, typically short-lasting, while outages mean a complete loss of power over a potentially long period of time, hence why you need to invest in the best PC surge protector.
Do I need a surge protector for my PC?
Yes. While power spikes are a rare occurrence on most electrical networks these days, a good UPS or surge protector will protect your sensitive electronics should one happen by grounding excess voltage and/or killing power to your devices completely, so they do not get overloaded.
Is APC a good surge protector?
Yes, in fact, it's one of the highest-rated manufacturers. If you're looking for the best power strip for your PC with surge protection, you can't go wrong with brands like APC, Tripp Lite, or Belkin. We have two APC models reviewed on our list, so make sure to check them out here and here.
How many joules should a surge protector have for a PC?
At least 1,000. While a random budget surge protector from Walmart will do the job for less demanding hardware, it won't help protect precious PC components. Models upwards of 700 joules are fine for the likes of mobile phones and tablets, but the best surge protector for PC is going to have to be much stronger. Thus, top models have over 2,000 joules of protection and truly powerful ones, even over 4,000. The higher the rating, the more powerful surges they will be able to deal with, and the longer the surge protection will last. The price ramps up too, of course, but it's a small price to pay for peace of mind.
Is a surge protector better than a UPS?
If you're willing to spend a little more than planned, you should definitely consider investing in a good UPS rather than a surge protector. UPS devices provide additional protection all while painting power for your work or gaming session. In essence, a UPS is a bulky battery that contains a surge protector by default.
Leave your comment
Your email address will not be published.