The Best HDD for Gaming in 2022
Some of our stories include affiliate links. If you buy something through one of these links, we may earn an
affiliate commission.
Games aren't getting smaller any time soon. Mammoths like Call of Duty: Modern Warfare can easily eat up more than 200GB of precious hard drive space, especially when Warzone is installed. SSDs might be getting more affordable, but they're still a lot more expensive than good old HDDs.
That's why we've decided to find the best HDD for gaming currently available. We were on the lookout for the biggest storage, fastest read/write speeds, and ultimately the best bang for your buck. During our quest for the best and the fastest, we've also compiled a handy guide on what to look for in hard drives if you're purchasing one for a gaming PC, laptop, or console. Here's what we've found.
Show More...
Seagate Barracuda
Great value for money
Best rated HDD brand
Lots of cache in higher capacity models
Seagate is a household name when it comes to PC gaming and all-purpose desktop computing. Four decades of experience in manufacturing computer parts and specializing in storage solutions make Seagate one of the most trusted companies in the world of data storage. This Fremont-based company also works closely with Microsoft on making official Xbox drives. It knows gaming. As such, gamers trust Seagate drives with their data.
Today, Seagate offers a wide selection of computer drives aimed at everyday consumers, professionals, and enterprises. Our choice as the best HDD for gaming is Seagate Barracuda, an all-around hardware that combines speed with versatility and adds incredible value to the deal. This is a standard internal 3.5" HDD that connects via the SATA III port, making it compatible with pretty much any desktop PC on the market. It's great for storing AAA games due to its high capacity. The basic models come with 1 TB of storage space, and Seagate now offers drives up to 14 TB in size. Unless you plan on installing every single game from your library at the same time, it's highly unlikely you'll ever run out of space with such a massive drive.
All of the drives in the Barracuda series spin at 7,200 RPM, so you won't need to purchase the largest hard drive to enjoy the best performance, as is usually the case with HDD manufacturers. That being said, we'd suggest avoiding the 1 TB model if you also want the most cache possible. All drives come with 256 MB of cache except the 1 TB model that comes with just 64 MB. While that isn't much of a dealbreaker for everyday use, it can cripple your games' performance, especially for super demanding titles like Cyberpunk 2077 that rely on loading speed to deliver the best experience. There's also the matter of value, as you're getting better performance and storage on a 2 TB drive at just a slight price increase.
Speaking of prices, Seagate has the best 2TB HDD for gaming, hands down. The drives cost just slightly above $50, meaning that you're essentially paying under $30 per terabyte. That's already an amazing value, but the cost-per-terabyte drops as the capacity increases, meaning the bigger disks are an even better value. The 2TB one is still a sweet spot, though. It's affordable without sacrificing any performance. And since it's Seagate's most popular product, they're bound to have a lot in stock.
Seagate FireCuda
5x faster than standard drives
Long warranty
Compatible with PCs and consoles
Not available with bigger capacity
We can't show enough love for Seagate's products. That's why we had to include another product from this company, this time a hybrid drive that combines the best of SSD and HDD. That makes it the fastest HDD for gaming.
The way Seagate FireCuda was designed is especially interesting. At its core, it's a 7,200 RPM hard drive, or 5,400 RPM drive if you go with the 2.5" version. It doesn't even have much cache, just the standard 64 MB. But it uses the latest NAND flash technology with 8GB of extra capacity that acts as a true buffer. This flash storage isn't directly available to users. Instead, the drive uses it to store files for quick access. It's all automated and requires no extra setup. Just connect it to the SATA port, boot up, and you're ready to go.
That's another reason why this is a popular HDD for gaming on consoles, especially the last generation PS4 and Xbox One devices. Both consoles came with hard drives installed, but manufacturers didn't stop users from switching out these drives for faster SSHD ones. The only thing to remember is to purchase the 2.5" model, as it is the one compatible with laptops. Pop it in your PlayStation or Xbox, and, voila - it becomes a console hard drive.
If you want the best loading speeds in your games, but pricey SSDs are out of the question, FireCuda is the top gaming HDD for you. Depending on the game, you'll see loading speeds up to 5x faster compared to standard drives. Even if it doesn't come close to the blistering M 2 SSD speeds, this is an incredible upgrade from the age-old tech. Best of all, these drives are very durable. Seagate issues a five-year warranty with each unit, and 2.5" drives employ additional power-saving features to elongate the drive's life and reduce heating.
With all those bells and whistles, you might expect the Seagate FireCuda to cost an arm and a leg. But the best SSHD for gaming costs just slightly more than the comparable Barracuda HDD. The only downside is limited storage. These SSHDs have a capacity of only 1 TB and 2 TB. So if you need more storage, you'll have to get a regular drive for PC.
WD Blue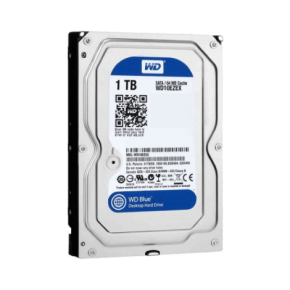 Incredible value
Most affordable 1TB drive
Wide selection of models
Slow higher capacity drives
Another big name in the world of computer storage is the Western Digital Corporation or WD for short. WD is another American old-timer and innovator when it comes to hard drives. Among the many products that this company offers today, there's no denying that its most popular gaming HDD is WD Blue.
Before we continue, a short guide for purchasing WD drives is in order. The HDDs are color-coded, so the green line is the eco-friendly low power consumption one, red drives are for NAS systems, black is enthusiast-level and external drives, while the blue ones are all-rounders. We wanted a budget-friendly solution for this list, so we chose the blue drive. To say that WD Blue is a popular choice would be an understatement. It has almost become a default choice for many gamers looking to expand their storage on a budget.
Let's talk about price first. This is an incredibly affordable gaming hard drive, available for under $40 for a 500 GB model or just a few dollars more for a 1 TB drive. The latter is the best option right now if you're building a multi-drive configuration or planning a RAID setup.
We're recommending the 1 TB drive over 2 TB and other bigger models because of how WD makes these HDDs. The 1 TB model spins at both 7,200 RPM and 5,400 RPM. All higher capacity drives are locked to 5,400 RPM, which is not ideal in this day and age. Compared to Seagate's best HDD for gaming, WD Blue with 2+ TB of storage is simply not a great deal. On the flip side, some of these bigger drives are equipped with 256 MB of cache. But we highly recommend shopping around and deciding yourself whether it's worth sacrificing RPM for a bigger cache.
All in all, WD Blue remains a good choice even in the age of SSD dominance. Solid-state technology still can't offer the same value for terabytes of storage, and content creators that record and edit many gameplay videos will still find plenty to like with this gaming hard drive.
Toshiba X300
Plenty of storage and cache
Lots of protections against data damage
Very quiet
Toshiba is an IT giant that needs no special introduction. This Japanese company has been operational for nearly 150 years and is responsible for some of the best tech in our homes. You've probably owned a Toshiba laptop at some point. Toshiba made quite a splash on the PC storage market with its prestigious line of X300 hard drives. These aren't your everyday HDDs, as they're more secure and faster than nearly anything else on the market right now.
Toshiba X300 is a performance drive marketed around gaming and content creator segments of the market. It'll be the best gaming HDD if you're not just playing games but also creating content around them. At first glance, this hard drive might not seem very different from any other hard drives for PC. It spins at 7,200 RPM, connects through a SATA port, and isn't packed in a fancy case. But its true strength lies in all the tech Toshiba managed to fit into it. First of all, it's a storage beast. The minimum capacity is 4 TB, and there are models with up to 16 TB of storage, which is perfect for hundreds of PC game installations. It also has a lot of memory cache. Toshiba X300 comes with buffers of up to 512 MB, ensuring maximum performance for your apps.
It's not just the best gaming hard drive; it can also protect your data from external damage. All X300 models have a dual-stage actuator design, which allows faster and safer data access. In addition, Toshiba added an internal shock sensor to ensure no data is lost, while its Stable Platter reduces vibrations by stabilizing the motor on both ends. This is why gaming streamers and YouTubers should go with this drive, especially if they keep lots of footage as a backup.
While this is arguably the best hard drive for Steam gaming, keep in mind that this particular model can't be a laptop hard drive. Toshiba does make 2.5" models, but they're not nearly as fast as the X300. The only real downside with these drives is the price. Starting at almost $100, these aren't the most affordable drives for mere video game storage, and the prices can get quite high if you're going for eight or more TB of storage space. But if you're creating 4K gaming content, the Toshiba X300 is simply a must-buy for your rig. No other drive can store so much data and still run fast.
WD Black P10 Game Drive
Works great with PlayStation and Xbox
Lots of storage
Durable case
Aside from PC drives, WD also makes the best HDD for console gaming. Here we're talking about the WD Black P10 Game Drive. Unlike other drives from WD's incredible opus, this is an external drive. It has precisely the same performance as an internal hard drive through a speedy USB 3.0 connection.
The P10 is quite a looker, too. Enclosed in a cool black industrial-looking case, with the logo imprinted in bold font, you might mistake this drive for a piece of military tech. Perhaps it's no surprise then that there's also a Call of Duty-themed model. Of course, it isn't the best WD HDD for gaming simply because of its appearance, especially not when it comes to console gaming.
As consoles are moving to SSD for storage but keeping compatibility with previous generations, gamers are facing a dilemma; on one side is a super-fast SSD powered through PCIe 4, but on the other is limited storage and a rough reminder that Call of Duty can easily take up 200+ gigs of HDD space. Luckily, both PlayStation and Xbox support loading old-gen games through a 3.0 USB, where the WD Black P10 comes to the rescue.
This drive is at the top of the gaming hard drives list thanks to its performance and USB 3.2 Gen 1 connection. WD states that P10 can reach transfer speeds of 140 MB/s, and with up to 5 TB of storage, you can rest assured that you'll always have your gaming library with you ready to go. If your console's OS is up to date, you won't even need to format it specifically for console gaming. Just plug it in and let the console prepare it for game installs.
While WD Black doesn't come cheap (the 4 TB model costs more than $100), it is the best hard drive for gaming if you like free games. The selection of freebies changes from time to time, and retailers often have different offers. So make sure you check what's in the gift basket before snatching one of these drives up. For us, it is a must-have for any gamer who likes to play various games across different console generations.
The Best Gaming Hard Drives
Seagate Barracuda

Seagate FireCuda

WD Blue

Toshiba X300

WD Black P10 Game Drive
Evaluation Process
Storage Size
So, you've prepared your trusty PC joypad and adjusted your loyal rocking chair, but, lo and behold, there's trouble with the HDD. Hard drives are still a popular purchase among gamers because of their storage capacity. SSD manufacturers only recently started offering 2+ TB of storage for prices that don't equate to highway robbery. Meanwhile, hard drive users have been able to install Warzone, Flight Simulator, and Red Dead Redemption 2 simultaneously for quite some time now while not breaking the bank.
As PC gaming becomes more demanding on hardware and 4k is becoming the norm, game sizes are blowing up. A 100 GB game install size is not so uncommon nowadays. What used to be the best 1TB HDD for gaming is now a second or third backup drive. Even portable drives are growing in size. Naturally, we always look for bigger drives to store all those games, clips, and mods. This is especially important if you're a content creator since you're most likely making many clips when gaming.
Today, 2 TB of storage space on a hard drive is not unheard of. Some HDD manufacturers create drives with up to 16 TB of storage, so we're definitely in an exciting era of massive storage space. While one can argue against putting all the data on a single drive, with the top HDD for gaming, you won't have to worry about losing any saved games, add-ons, or other gaming content.
Performance
While the spinning plates of a computer hard drive are no match for even the most basic SSDs, the oldies of computer tech still have some life in them. Even if you're not specifically looking to buy a hard drive for anything but storage, modern drives are faster than their predecessors. Some of them easily reach 150MB/s, or even higher read/write speeds, for example. So, what affects the hard drive's performance?
Obviously, the speed at which the platters spin is important. The best internal HDD for gaming should run at 7,200 RPM or faster. Anything lower and game loading becomes much more of a hassle. This can be especially problematic with 2.5 HDD devices, which are usually installed on laptops and work at 5,400 RPM. But since the last generation of consoles popularized modding of storage space, a growing number of manufacturers offer fast small-form drives.
It's not all about sheer speed, though. All those RPMs are worthless if the drive doesn't connect through the appropriate interface. For internal hard drives, it has to be SATA III, while the external hard drive standard is a USB 3.0 connection. The fastest gaming HDD has to meet these requirements. In fact, if you're planning on hooking up your external HDD to any console, it has to be USB 3.0 compatible. Anything slower, and it won't work.
Lastly, hard drive cache, or buffer, plays a vital role in the overall performance of the device. Caching helps your hard drive process information by temporarily storing it in this memory before writing. It's especially useful when multitasking, as the hard drive makes some apps load faster if they are stored in the cache. Obviously, the bigger the cache, the better the performance.
Price
The next thing we look at in our gaming HDD reviews is the price of each device. Hard drives are more affordable than they've ever been, with tons of storage available. It's also worth noting how competitive this market is. Companies are constantly pricing each other out, which is always a win for the consumer. The prices have dropped so much that a 1 TB hard drive, which used to be an enthusiast-level drive, is now considered an entry-level device. Many gamers, like us, instead go for 2+ TB drives due to their better price-to-capacity ratio. That is also how we determine the value of a hard drive. If you're getting more terabytes per dollar spent on top of performance and any extras, then that's the most affordable HDD for gaming.
Warranty
Hard drives involve many moving parts that tend to wear out over time and ultimately break down. The worst thing that can happen is losing all your gaming montages or a complete Steam folder due to an HDD failure. That's why it's good to have an extended warranty for your hard drives. Of course, it's even better if an HDD lasts longer than its warranty.
Typically, warranties are between two to three years. Some manufacturers offer extended warranties for specific, premium-priced hard drive models. Others may add a money-back guarantee. We look at all those options when choosing hard drives to benchmark.
FAQ
Which HDD is best for gaming?
Many HDDs could be called the best hard disk for gaming. It depends on the types of hard drives as well as their storage and performance in different environments. For PC gaming, it's Seagate Barracuda, while for laptop gaming, you'll want to buy a 2.5" HDD from either Seagate or WD. If you're looking for a hard drive for consoles and don't plan to open your console up, then the P10 Game Drive is your best option.
PC game sizes are still blowing up, and most of us aren't ready to go full SSD yet. An affordable gaming HDD can still provide decent performance and way more storage space than an SSD for the same price. If you're not playing the hottest and trendiest games, you'll probably be just fine with a good hard disk for a while. Just follow our guide on finding the best option for your gaming setup.
Is SSD or HDD better for gaming?
Speed-wise, SSD easily beats any hard disk on the market. There's no question about it. Solid-state technology isn't in its infancy anymore, so the drives are much faster than before, and it's finally become affordable. But the best HDD for gaming on a PC is still a cheaper solution for pure storage since you can usually get 2-4x more storage for the price of an SSD. However, if you're more concerned about loading speeds, especially for modern PC games, then HDD is no match.
Is WD black faster than blue?
Yes, WD Black is the fastest drive the company makes. It's even specifically marketed at customers that crave performance, whether it's for work or gaming. These drives are more expensive than the blue ones, but the price difference is worth it.
What is a good HDD speed for gaming?
The best HDD for gaming should run at 7,200 RPM and, preferably, come with at least 64 MB or 128 MB of cache. Of course, this also means that the drive should be SATA III compatible or, in the case of portable drives, come with a USB 3.0 connection. Previously, there were hard drives spinning at 10,000 RPM, but these are now a rarity and are mostly too expensive to use in a gaming rig. Gamers should instead focus on finding HDDs with more cache and support for the latest and fastest connections. Bear in mind that sometimes lags can occur due to other malfunctioning pieces of your equipment such as Wi-Fi adapters, faulty cables, etc.
Leave your comment
Your email address will not be published.