Best Smartphone for Seniors – Stay in Touch With The Older Generation
Some of our stories include affiliate links. If you buy something through one of these links, we may earn an
affiliate commission.
We always worry about the ones we love. This is especially true when it comes to our seniors, who increasingly rely on other people's help as they get older. That is why it's essential that they have a reliable way of reaching out to their loved ones.
If you want to find the best smartphone for seniors, check out our list and pick the one that best suits your needs.
Show More...
Jitterbug Smart 2
Hearing aid compatibility
M4/T4
Battery life
12 hours talk / 408 hours standby
Large screen
Clean, list-based interface
Access to IAED-certified agents
Slow processing power
Poor volume quality
If you're looking to find the best smartphones for seniors, your first stop should definitely be GreatCall. This world-famous brand with over 15 years of experience offers a host of high-quality devices created specifically to help the elderly. The fact that the company's latest phone, the Jitterbug Smart 2, is manufactured by the well-known Alcatel is only part of its appeal. A customizable interface, decent performance, and exceptional services truly sell the product. Here is a rundown of the main specifications.
The user interface is a key priority for those shopping for smartphones for old people. Luckily, with Jitterbug, you won't have to worry. The simple list-based menu is inherently easy to scroll through and takes away any guesswork. The phone has a large, spacious keyboard, which is essential for good navigation, regardless of the user's dexterity. While most modern smartphones rely on icons to represent various apps and services on the device, Jitterbug uses plain words presented in a distinctive font. Of course, the interface is fully customizable, so it can be adjusted to each individual's specific needs.
The voice-over-LTE technology guarantees high-quality calls though the volume isn't exactly worth bragging about. However, you will get steady reception and wide coverage since Jitterbug is also the best Verizon smartphone for seniors. It's definitely among the most reliable providers today.
Now, let's check under the hood and see some classic Jitterbug Smart 2 specs. The phone comes with 16 GB of storage and a microSD slot that can hold another 32 GB. This is plenty of room for a casual user. For anything more than that, the user can turn to cloud storage options. You might need it if you plan to use the 13 MP camera. The processor achieves 1.5 GHz, which is good enough for basic tasks but still on the slow side. The device is also compatible with hearing aids, having an exceptional score of M4 and T4.
One of the main reasons Jitterbug might be the best smartphone for seniors is the abundance of additional services. For example, every device comes with a special 5Star Urgent Response Service button. It immediately contacts a trained professional in case of emergency. While this exclusive service is mainly used for medical emergencies, it can also help with minor problems like being locked outside your home or getting a flat tire in the middle of the road. GreatCall Link is another great service that lets you keep track of the device at all times using GPS technology. It buys you peace of mind knowing that your loved ones are safe and sound.
Overall, the Jitterbug Smart 2 phone is a solid choice as long as you don't expect too much from it. The device is a good smartphone for seniors with some basic functionality and a decent price, but its main selling point is access to an urgent response unit staffed by IAED-certified agents.
Doro 8040
Hearing aid compatibility
M3/T3
Battery life
24 hours talk / 550 hours standby
Good battery life
Great ringtone volume
Remote customization
Potential rebooting problems
No message drafts
Doro is a reputable Swedish company that was founded in 1974. Although it dabbles in various aspects of telecommunication, the company's main focus is on providing the best smartphones for seniors. Its devices are simple, easy to use, and they offer a lot of bang (or rather ring) for your buck. The Doro 8040 might not have a catchy name or a special branding strategy, but it delivers on various fronts. Here is what it looks like.
First of all, let's look at the design. As you'd expect from a Swedish company, the Doro 8040 offers a graceful design that doesn't stand in the way of its functionality. The front of the phone has a 5" screen and a 1.9 MP front camera. While you won't be making any breathtaking selfies with it, you can use it for video calls. Almost every smartphone for old people also has an assistance button that notifies their loved ones in case of an emergency. Doro's button is located on the back of the phone, right next to the other 8 MP camera. Up to five people can be on your emergency list - people who get alerted at the push of your emergency button.
The interface is fairly simple. It consists of various blocks that are easy to understand and navigate. There are three main icons that let the user call, send messages, or view something. Rather than offering numerous icons and unnecessary settings, this smartphone for older adults tries to figure out what you want. It's like when you troubleshoot a problem on your PC and get various actions as a result. It's a good system that makes Doro the easiest cell phone to use. Of course, there is also the voice-typing option that is especially useful for people who are visually impaired.
Before we get into the technical specifications, it's worth mentioning that the entire interface is actually customizable. You can connect the phone to your computer and create a combination of elements that works best for you. Doro's smartphone for elderly people can also be remotely configured through a Teamviewer. This is an extremely useful option that saves everyone time. No more explaining to your loved ones how to undo an action or add a new contact.
Doro 8040 has 16 GB of storage and the option to add a microSD for an additional 32 GB. The battery can withstand up to 24 hours of talk time and around 550 hours in standby mode. This translates to nearly 23 days. The phone comes with a handy docking station and a pair of simple headphones. Its T3 and M3 ratings mean that this best smartphone for senior citizens is suitable for hearing aids, and you won't have to worry about interference or echoes. Exceptional ring volume options will ensure the user never misses a call.
The Doro 8040 is an excellent choice. It has a truly intuitive interface and some cool features for elderly users. Some users have reported rebooting bugs, but that's rare. Unfortunately, there also doesn't seem to be an option to save message drafts, which is a shame. But everything else is on point, making these great phones for seniors.
PowerTel M9500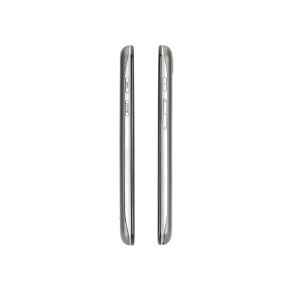 Hearing aid compatibility
M4/T4
Battery life
8 hours talk / 210 hours standby
Amplified volume
Remote control
Innovative touchscreen
Mobile phones that offer increased volume for users with hearing impairment tend to be bulky and unattractive. However, that is not the case for the PowerTel M9500. This mighty device hides its raw power behind a sophisticated design, which can easily compete with some other high-end products on the market. If you're looking for an easy-to-use smartphone with an incredibly loud ringtone, this is a great option. Here is what it's all about.
When you have a company with a name like Amplicomms, you know that there will be a focus on amplified sounds. The handset volume can go up to 40 dB, which is perfect for people with auditory impairment. The levels can be manually adjusted to fit every user. The same goes for the ringtone that can reach an amazing 90 dB, making it one of the loudest cell phones for seniors. With that setting, it's highly unlikely your loved ones will ever miss your call again. Just for comparison, this noise level is equivalent to the sound a motorcycle or a lawnmower makes. So, imagine that but in your pocket. These ear-splitting ring volumes guarantee that people with any degree of hearing loss will hear the phone even if it isn't in the same room with them.
Now that we've got the blaring ringtone noise covered, it's time to check out additional features that make PowerTel M9500 one of the best cell phones for seniors.
The user interface is all about simplicity. PowerTel M9500 checks this box along with unique patented interactive elements. Like many other phones out there, this one also features large icons and simple navigation. The interesting part, though, is how you click on the specific buttons. If you want to select messages, for example, you need to hold your finger on the icon for a certain amount of time. This prevents misclicks and accidental selections, which can lead to unforeseen expenses. Of course, the duration of the clicks is fully configurable to best suit each user.
The interface is really what makes M9500 the simplest smartphone for seniors. All of the messages you receive, whether it's SMS, WhatsApp, or email, go into a single easily accessible directory. This simplifies navigation and saves time. The FAQ section at the top right of the screen helps out with some of the more common problems users encounter. If that's not enough, the user can share screens with designated family members or give them full control over the device remotely to solve the issues. There are a couple of great safety features like the Call-In function or Find-My-Phone that help relatives look after their loved ones.
As for the general specifications, Amplicomms' best simple smartphone for seniors isn't that exciting. The 5" screen does a good job of displaying all the necessary information. The rear 8 MP camera offers the auto-focus option, while the front of the device has a modest 2 MP cam. You can keep track of the battery life at the top of the main screen, and you might even have to, considering the standby time is only 210 hours. That's half the time of some of the competition's devices. There is a standard 8 GB of storage with a possibility of an upgrade.
Sure, the amplified volume sells the PowerTel M9500 phone as one of the top senior-friendly smartphones, but it has a lot more to offer. With the various safety features and a great-working interface, it's no wonder this device found its place on our list. However, if you're on the hunt for a phone with great music reproduction quality, you should check out other models.
Emporia Smart 3
Hearing aid compatibility
M4/T4
Battery life
9.2 hours talk / 168 hours standby
Good pair of cameras
Splash-proof design
Charging station with an amplifier
Modest battery life
Lacks additional features
Emporia Smart series of phones is known for its simplicity and functionality, so it's no surprise that the third incarnation kept its original quality and reliability. Smart 3 is a great-looking smartphone for elders that still has a couple of tricks up its sleeve. The splash-proof design takes some of the worries from your mind, while the emergency button ensures the safety of the user at all times. Let's dive right in.
Usually, when a company mentions its senior-friendly design of the interface, it comes down to lack of clutter and clarity of the icons. Emporia's Smart 3 is not much different in this regard. The only thing that might set it apart from the competition is the beginner-friendly Emporia keyboard. Accessing the settings menu is fairly easy and allows you to change numerous parameters like the button responses, autocorrect system, or automatic capitalization rules.
Emporia's best smartphone for elderly family members offers a generous 5.5" screen together with two high-end cameras - 8 MP at the front and 13 MP at the rear. Thanks to the great front camera, you'll be able to make more than decent video calls with your loved ones whenever you feel like it. The sleek soft-touch design of the back ensures a firm grip of the device and less chance of it slipping out. This special enclosure has a protection rating of IP54, which translates to full resistance to water splashes and reasonable protection from dust.
As you would expect from smartphones for older adults, Emporia's Smart 3 also sports an emergency button on the back of the phone. Since the box comes with two types of covers, with and without the button, you can choose which design you prefer. Even if you opt for the no button design, you'll still be able to activate the emergency, though the long way around. This mode activates an alarm and notifies up to five people from your chosen list. When you get a call back, your phone automatically activates the speaker to give you a chance to reply.
The phone comes with its own sophisticated charging station that works as an amplifier. That way, you can use Emporia's best smartphone for seniors to listen to some of your favorite songs or talk through a speaker. The battery can withstand the talk time of around 550 minutes, which translates to just over nine hours. The standby battery life is even more disappointing with a fairly modest 168 hours of doing nothing. It is well beyond the industry standards.
All in all, the Emporia Smart smartphone does its job, and it does it well. There is a chance that you'll be let down by the lack of impressive features, but at the end of the day, it's the reliability that matters the most. This easy-to-use smartphone for seniors is a great choice for a decent price, so you can't go wrong with it.
Alcatel Go Flip 3
Hearing aid compatibility
M4/T4
Battery life
7.9 hours talk / 427 hours standby
Sturdy old-school design
Crystal clear call quality
Affordable
Poor camera
No fast charge option
Flip phones are slowly making a comeback and for good reason. They are simple, affordable, and handy. Of course, the Alcatel Go Flip 3 is not just a revamped version of the old design brought back from the dead for nostalgic purposes. These flip phones for seniors actually offer a lot more than meets the eye. Let's take a look.
Alcatel's Go Flip 3 has an old-school design, which makes it a lot sturdier and more reliable than classic smartphones. While this phone with buttons isn't actually waterproof, the design is inherently more resistant to dust particles and water splashes. The phone has two displays - the 1.44" external and 2.8" internal. The quality rubber keyboard offers a tactile experience you can't get from a regular touchscreen. Google Assistant will help you type your messages using voice or answer any queries you might have.
One of the many reasons this might be the best basic smartphone for seniors is its call quality. The Flip 3 has great reception and delivers HD voice quality that will make all of your calls crystal clear. The built-in dual microphones use voice cancellation technology to remove any potential interference. The M4 and T4 ratings mean that this phone is compatible with hearing aids.
The battery is pretty good and can withstand nearly eight hours of talking and 427 hours in standby mode. Unfortunately, there is no fast-charging option. So when the last drop of energy drains out, you will have to spend more than three hours of your life charging it.
Modern flip phones are generally simple smartphones for seniors, so don't expect too many unique features and options. The Alcatel Go Flip 3 has no special emergency buttons or remote configuration abilities. It does, however, offer the option of creating a mobile hotspot to share mobile data with up to eight different devices. This may come in handy but might be too advanced for a casual senior user.
Taking pictures and recording videos isn't exactly the strongest point of Alcatel's flip phone. It only has one rear camera with 2 MP, no flash, and fixed focus. It certainly isn't the best cell phone for seniors who like to take pictures or videos.
You won't be able to make video calls or even take low-light pictures with this camera because of the low storage capacity; the 2 GB of internal storage isn't much. However, there is an option of adding a micro SD card of up to 32 GB of extra space which is a nice expansion for apps and images.
We've found that Alcatel's Go Flip 3 is one of those simple smartphones for elderly users that won't give you much more than what you bargained for. High-quality calls, a decent price, and a solid battery are a great combination for some users. All you need to do is figure out if you're one of them.
However, if you have concerns about battery life, finding a decent smartphone with a removable battery, could be the right solution. Keeping a spare one on hand may be convenient for some seniors when they are outside, rather than finding a power outlet or a charging station.
Top Smartphones for Seniors
Jitterbug Smart 2

Doro 8040

PowerTel M9500

Emporia Smart 3

Alcatel Go Flip 3
How We Picked Our Favorite Smartphones for Seniors
With so many exceptional products on the market today, there are plenty of choices whether you are looking for pocketable small smartphones, kid-friendly mobile devices, or phones that seniors prefer.
There are some great products on the market known for their straightforward design and ease of use. Furthermore, some manufacturers took on the challenge of figuring out what is the best smartphone for seniors. To help us get through it, we've come up with our own special criteria based on a number of important factors. In case you wanted to know how we did it, here is a breakdown of everything we've taken into consideration.
Interface
While there are many theories on the web about what makes a good interface, for our purposes, there is only one true answer - simplicity. Senior citizens need a smartphone they can easily use without too much explanation or additional guidance. The best interface is usually self-explanatory or aims to figure out the user's intent. Our list compiles some of the easiest smartphones for seniors that managed to do just that.
Functionality
After the interface, we turn our attention to the phone's functionality. Specifically, we check to see how these smartphones cope with some of the common challenges of the elderly. The sound quality and volume are two major elements that need to meet some basic requirements. Is it possible to send a message using voice? Is the device compatible with hearing aids? How much storage do you get, and can you upgrade it? Can you make a video call? These are just some of the questions we answer in our reviews.
Battery Life
The most intuitive interface and the greatest functionality mean absolutely nothing if these smart phones for elderly don't have a decent battery life. That is precisely why this is one of the most important factors on our list. Sometimes the phone has an astounding number of features, but the battery simply can't cope with the pressure. This is a major flaw and something you need to know before you decide on a device.
Emergency Button
Almost all of the major smartphone manufacturers that focus on the elderly offer some type of emergency button. This is a lifeline for older users who need constant care and attention. Thanks to these smart cell phones for seniors, the users can easily ask emergency services or their loved ones for help, no matter where they are. Sometimes these buttons trigger an alarm, and sometimes they can offer the exact location of the user. It is an important part of their everyday life, so we consider it essential as well.
Special Features
Once we're done with the basics, we can turn to some special features that make the phone stand out from the competition. Some of these devices offer remote control, while others come with a handy charging dock that amplifies the sound, which are the best phones for seniors with hearing aids. These are all extra points that simply tell us the company went beyond the call of duty to make life easier for its users. We always appreciate that and take it into consideration when we're looking for the best mobile devices.
FAQ
What is a smartphone for the elderly?
While it can be argued that any smartphone is fit for the elderly, there are phone models on the web specifically designed for older people. A classic senior phone is usually the easiest phone to use because it offers big icons, clean navigation, and various other helpful features. The majority of these devices also come with a special emergency call button that either automatically notifies the authorities or the user's designated family members. That way if anything happens, they can come running.
How much do smartphones for the elderly typically cost?
These phones come in a range of different prices, depending on the type of device and the manufacturer. If it's an older model or a simpler design, you can get one for as low as $30, while some of the high-end phones might cost you a couple of hundreds. That being said, you can save a lot if you find the best smartphone plans for seniors and get a discount along with the device.
How do you teach a senior to use a smartphone?
If you find a good enough phone, you won't have to teach them anything. There are special types of smartphones created specifically with seniors in mind. One of the greatest examples of these easy-to-use smartphones for seniors is certainly the Jitterbug Smart 2 created by GreatCall. This phone has a large screen, simple interface, and a number of exclusive services that will keep them safe.
What is the easiest smartphone to use for seniors?
Our recommendation would be the Jitterbug Smart 2 because it utilizes a list-based interface that's easy to master. Everything is written down using a large, bold font that's easy to read. You can type your messages on a big, spacious keyboard or use voice recognition technology. Besides all that, the entirety of the interface is fully customizable, so you can set it up any way you want. In addition, GreatCall's easy phones for seniors come with exclusive emergency services that look after the safety of the user 24/7.
What to look out for when buying a smartphone for the elderly?
The first and the most important element is the interface. Since you're buying a smartphone for the elderly, you need to make sure that the interface is clear, simple, and easy to navigate. After that, you need to take into consideration the functionality of the device. Namely, the volume of the handset, the ringtone, voice clarity, voice impairment rating, and battery life. The best smartphone for seniors will usually offer a special emergency button that notifies the relatives, so keep that in mind as well. After all that, you can look out for other unique features that make the device stand out from the crowd.
Leave your comment
Your email address will not be published.