Best PC Controller Out There in 2022: Lead the Charge
Some of our stories include affiliate links. If you buy something through one of these links, we may earn an
affiliate commission.
PC games have always been the mainstay of video gaming. You can immerse yourself in thousands of titles with incredibly high fidelity. But what happens when you want to play Dark Souls or have friends over for a bit of Mortal Kombat? You'll need a controller. Using a gamepad might not be very PC Master Race, but many modern games work better on one. So, it's time to go with the flow and pick the best PC controller for you and your budget.
Show More...
Microsoft Xbox One Controller
Cable length/Signal reach
15-20 ft
Battery
2 AA batteries (included)
Best compatibility
Ergonomic design
Sturdy build quality
Rechargeable battery sold separately
During the Xbox 360 era, Microsoft worked hard to make console-specific controllers the gold standard within the gaming controllers industry. Today, you won't find a video game that doesn't have Xbox prompts instantly recognizing the controller when you turn it on. The already impressive design of a 360 controller was further improved for the Xbox One console.
So, why is the Xbox One controller the best controller for PC? For starters, it has an ergonomic design and the benefit of rock-solid build quality. It is very comfortable to use for extended periods of time and can withstand a fair share of gamer rage. Buttons have undergone a slight overhaul, especially the D-pad, which now has clicky buttons. The triggers are bigger with very little resistance, so your fingers won't hurt. The controller is available in a variety of colors, and Microsoft can build your own customized palette.
Many consider the Xbox One controller to be the best gamepad for PC because any modern game will detect it as soon as it's plugged in. The controller has versatile connectivity, and you can plug it in using a detachable micro USB cable. A wireless connection is also available, although it might require Microsoft's adapter if you get a first-generation controller. For controllers manufactured after the launch of the Xbox One S, you only need a Bluetooth stick.
The only real downside is the lack of a rechargeable battery, which you have to buy separately. These controllers use a pair of AA batteries.
Sony DualShock 4
Cable length/Signal reach
15-20 ft
Great battery life
Compact design
Officially supported by Steam
Requires third-party software for non-Steam games
When it comes to PlayStation, Dualshock 4 is the most durable device to date. It's much sturdier than its predecessors and shares several characteristics with the Xbox One controller, including the ability to withstand aggressive daily use. Just like its Microsoft counterpart, it is a Bluetooth gamepad with an optional micro USB connection.
While it's undeniably one of the best PC controllers, DualShock 4 is still not officially supported in Windows. Using the PS4 controller on PC requires additional software, specifically a third-party app called DS4Windows, which allows you to spoof an Xbox controller connection.
Steam, on the other hand, has built-in drivers for DualShock 4 PC, allowing it to work with every game that supports controllers. PlayStation's gamepad also has a set of neat features like a touchpad, a headphone jack, and a gyroscope, but few PC games support those. The light bar on the front changes color, so you won't mix up the controllers when connecting more than one.
Xbox One Elite Controller Series 2
Cable length/Signal reach
20 ft
Weight
Up to 12.2 oz with paddles attached
Battery
Internal rechargeable
Impressive build quality
Unmatched customization
Lots of accessories
This Microsoft controller is designed for the gaming elite. It also marks the first significant price jump on our list, costing twice as much as the Xbox One default gamepad. On the surface, it looks like a slightly fancier version of the latter. But it comes with a whole case and a lot of gadgets you can play around with.
Xbox One Elite Controller has the highest number of customization options. It is the best gaming controller for PC users who like to adjust both the software and hardware. You get a cross-style directional pad and another shaped like a concave diamond, as well as four additional analog sticks to swap around. The sensitivity of the dual analog system can also be adjusted. You can flip a few switches on the backside to make the triggers send your commands even faster. Meanwhile, attaching the four paddles lets you remap four buttons inputs (no new keys, though), so you won't have to move your thumb around when you need to reload.
Another reason why the Elite 2 is among the best controllers for PC gaming is the battery life. According to Microsoft, you get up to forty hours of uninterrupted gameplay with a single charge, and you can even charge it while it's in the case.
Finally, the controller comes with the onboard memory feature. It can store up to three user profiles with individual button configurations, which you can then use by plugging the controller into another PC. There is no need for any kind of additional setup. While this is a very pricey Xbox controller for PC, the features justify the cost.
Logitech F710
Cable length/Signal reach
10 ft
Classic design with durable case
Affordable
Batteries included
We can't talk about gaming controllers without mentioning Logitech, which has a long history of manufacturing some of the finest PC peripherals. Buying a Logitech controller is an investment in a quality product. The company now has a line of gamepads marked with the letter F. Most belong to the premium category.
F710 is a staple of modern PC gaming, offering all of the features you'd expect from the best wireless PC controller. Its traditional design is inspired by the classic DualShock 2 controller. The extra twist is in the analog triggers, large textured thumbsticks, and a neat switch that lets the controller work in both DirectInput and XInput mode.
It's worth noting that this controller works only in wireless mode. It can't be connected to your PC via cable, and the only purpose of the USB cable is to extend the range of the Wi-Fi receiver. It doesn't have a rechargeable battery, but a decent set of alkaline ones guarantee dozens of hours of game time.
It's also the best controller for emulators on PC due to the aforementioned switch. A lot of emulators work better with DirectInput. So to attain the best possible compatibility, you can switch modes on the fly. This doesn't require any drivers, making the controller the perfect choice for anyone looking to buy a simple plug'n'play device. More importantly, Logitech priced the F710 slightly lower than what Microsoft and Sony charge for their controllers, making this one of the better deals in gaming.
PDP DX Wired Controller
Cable length/Signal reach
10 ft
Officially licensed Xbox product
Available in many colors
Affordable
PDP is one of the new arrivals on the gaming peripherals scene. In this crowded market, PDP needed to do something to stand out from other gamepads. So it struck a deal with Microsoft to produce an officially licensed Xbox controller that is offered at an affordable price. The controller might not have the prettiest of names, but it does what it's supposed to.
In our search for the best gaming controller, PDP's DX emerged as one of the top choices. It's designed to look and feel exactly like the official Xbox One gamepad, but it is limited to a wired connection and costs only a fraction of the price. This affordable USB game controller comes with a detachable and very long cable. It's available in many color variations, including the afterglow variant, which has a transparent case and LED lights.
But even the best wired PC controller has its flaws. PDP XD falls short with its build quality because the controller's buttons are prone to getting stuck. This is especially true for the shoulder buttons and the triggers, which are luckily covered by a warranty. These are rare occurrences, and the majority of gamers that own PDP products are happy with their purchases. It's an affordable choice for both your PC and Xbox, and it is available worldwide.
SCUF Prestige
Cable length/Signal reach
10ft/20 ft
Battery
Internal rechargeable
Solid, durable case
Highly customizable
Remappable buttons
SCUF Gaming lives up to its reputation as a prestigious brand. Its flagship computer controller has an Xbox One design and is described as the weapon of choice among professional Call of Duty players. A lot of people in esports circles have one of these in their arsenal.
So, what makes SCU Prestige the best game controller for PC? It shares a lot of features with the Elite Xbox controller. The build quality is similar, and the controller comes with a rubberized grip. There are four removable paddles on the underside and a lock system to shorten the travel time of triggers.
But the secret weapon of SCUF controllers is customization, specifically the online app that lets you design an Xbox One custom controller. You get to choose the colors you want, although this can drastically inflate the price of the most expensive product on our list. Faceplates are magnetic and replaceable, and you get additional thumbsticks in the box.
Just like with other top PC controllers, you can link the SCUF Prestige to your PC via cable or through a wireless connection. Its rechargeable battery packs thirty hours of juice, which is far more than the batteries of other gamepads that generally last around ten hours.
Razer Wolverine Ultimate
Cable length/Signal reach
10 ft
Lots of customization options
Cable is detachable
Lightweight, durable design
Although Razer has been well-known among gamers for quite some time, the company only recently delved into the world of console peripherals. It started with headphones, and controllers were the next logical step. Today, Razer has a whole range of gamer controllers, but one stands out from the rest.
The Razer Wolverine Ultimate comes with Chroma lighting, including a spectrum of visual effects featuring over 16 million colors. However, that's not what makes this the best USB controller for PC. Wolverine's true power lies in its unmatched customization options. Through the official app, you can remap all of the buttons and get six more on the back, either to free up your hands or to create shortcuts. As with other premium controllers, you can limit the triggers' travel distance, and you get additional thumbsticks and D-pads, which snap on thanks to powerful magnets.
The ABXY buttons are also sturdy and have fast switches underneath. It genuinely feels like the best controller for PC, especially with the app allowing you to change the reaction speed of the analog sticks almost like a DPI switch on your gaming mouse.
There are many similarities between Wolverine Ultimate, the Elite 2 controller, and SCUF Prestige, except for one thing. Wolverine is a wired controller for PC, which means that for the same price you get a controller that you can connect to your PC in only one way. So, if you don't mind spending a premium on a USB game controller, Razer Wolverine Ultimate is the ideal choice.
SteelSeries Stratus XL
Cable length/Signal reach
20 ft
Very long battery life
Officially supported by Steam
Long range
SteelSeries is now offering full-fledged gaming controllers for both PC and mobile. Although the company is primarily focused on mobile devices, its gamepads work on PC. One of the most popular new products is Stratus XL. The controller has the longest battery life, totaling 40 hours!
Since the controller has no motors installed, it can't offer the rumble function or the haptic feedback on triggers. It's the best controller for those that just want to enjoy their games without having to bother with cables.
It's also an interesting hybrid of designs. The layout is inspired by PlayStation controllers, while the buttons and triggers are clearly borrowed from the Xbox ecosystem. SteelSeries is especially proud of the official Steam support. According to the company, the PC gaming controller comes with the plug'n'play option with any PC, making it ideal for casual gaming sessions through Steam's Big Picture mode.
The downsides are the absence of rechargeable batteries and the fact that you need to provide your own Bluetooth receiver.
Logitech F310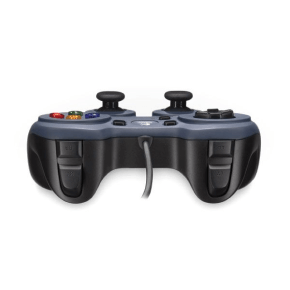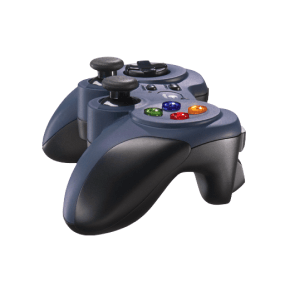 Cable length/Signal reach
6 ft
Very affordable
Durable
Compatible with old and new games
This Logitech product is on the cheaper side, but the F310 offers the same build quality as its more expensive cousin, the F710. It has nearly all of the same features, and a layout PlayStation gamers will appreciate.
Logitech F310 has a classic PlayStation controller design that still allows you to switch between DirectInput and XInput on the fly. Many consider it the best PC controller for fighting games because a lot of those video games require additional setup, and most don't function well with modern controllers. Logitech wasn't trying to reinvent the wheel with this generation of game controllers, focusing instead on taking the chunk of the market many forget to consider - gamers on a budget. Despite its short cable, this is an excellent device, and we highly recommend it.
GameSir T4 Wireless
Cable length/Signal reach
6 ft/20 ft
Battery
600mAh rechargeable
Bold design and lighting effects
Affordable
Precise D-pad
The T4 Wireless from GameSir is another cheap controller that features a mashup of several designs. This time, it's a combination of the Xbox One layout and Nintendo Pro controller chassis. It's slightly more compact than other devices on our list with a few interesting features. There are several lights underneath the transparent case that serve as a nice effect.
While GameSir promotes this device as the best cheap wireless PC controller, it also offers a wired option. A USB-C cable charges the controller quickly and transforms it into a wired controller. This is a better option for long gaming sessions because the battery life is only five hours.
In addition, the plastic casing doesn't guarantee durability, especially when it comes to button mashing games. On the flip side, you get a bunch of extra buttons and a nice D-pad that won't betray you even during the most frantic fighting games.
The T4 might not be the best PC controller of all time, but it's very affordable and a good choice if you are new to gaming with a controller.
Best PC Controller - Top 5 Picks
Microsoft Xbox One Controller

Sony DualShock 4




Xbox One Elite Controller




Razer Wolverine Ultimate




SCUF Prestige
Evaluation Process
Why look for the Best PC Gaming Controller?
You've already invested in a comfortable gaming chair and a solid microphone. Good for you! However, now it's time to get the best gaming controller for PC and stop pulling your hair out while playing Dark Souls on keyboard and mouse. The market recently underwent several tectonic shifts towards quality and pro-consumer pricing tiers. A quality product no longer costs $100. Most products are available for a third of that price or even lower. If you're still confused about all the available computer controllers options and terminology, we've compiled a handy guide to help you out.
XInput vs DirectInput
These are APIs that are supported by the best controllers for PC. Developed by Windows, the software dictates how games use other software. Initially, PC controllers needed specific drivers from their manufacturers to even work on our computers. But DirectInput paved the way for the full remapping of every single button on the device if gamers were willing to put up with a much longer setup.
With the introduction of DirectX 9 and Xbox 360, Microsoft created the XInput standard so an Xbox controller could be plugged into the PC and work without any extra setup. The only downside is that you can only connect up to four controllers at once.
The Best PC controllers nowadays are almost exclusively XInput, providing a plug'n'play gaming experience. The Xbox-style control scheme has become the standard in modern video games, and the manufacturers have been quick to adopt it. Every single gaming controller on our list, except the official PlayStation controller, is an XInput model.
Wired or wireless?
For a long time, gamers wouldn't touch a wireless device with a ten-foot pole. To them, cordless meant poor performance, delayed inputs, and unreliability. However, today there is no difference in connection speed when it comes to the best controllers for PC. Every console comes with a PC wireless controller and is either connected through Bluetooth or a console-exclusive radio connection.
Your personal preferences will determine whether you choose a wired PC controller or a wireless one. Wired gamepads are always connected through a USB and can be plugged into older computers. On the wireless side, you get a choice between integrated rechargeable batteries and standard AA batteries. The latter is not the most consumer-friendly feature when it comes to the best PC gamepad.
Layout variations
The layout is determined by the two big console manufacturers and their vision of the perfect video game controller. You have the option of a PlayStation layout based on the DualShock series or an Xbox-style gamepad. The main difference is the position of the left analog stick and the D-pad, which the Xbox keeps inverted. Some prefer this layout, claiming it reduces stress on the thumb, while others like more traditional best controllers for PC with PlayStation's design.
Our Methodology for Finding the Best Gaming Controller
Build quality
There is nothing worse than a gamepad for PC breaking down during an intense session of FIFA. That's why build quality is our top priority. Regardless of the price, a good controller needs to be durable and, much like a well-built drone, not make our hands cramp up while playing our favorite games.
Features
Choosing the best controller for PC games also comes down to features. The competition is fierce. It's no longer enough to have a basic set of buttons, a D-pad, and two sticks. You need a rumble function, a headphone jack, customizable buttons, a rechargeable battery, and a cable wireless combo. Versatility is the name of the game. So when we're selecting the best game controller for PC, we're looking for extra features.
Compatibility and ease of use
A controller isn't worth much if you can't use it for all of your games. Gamers are the impatient type. That's why a gamer controller needs to guarantee a fast plug'n'play experience without requiring the user to download a bunch of apps to make it work.
FAQ
What is the most comfortable controller?
This depends on your personal preferences since different people prefer different layouts. That said, most gamers agree that the Xbox One controller is the most comfortable to use for long periods of time.
What controllers work with PC?
Pretty much all of them. PC is a versatile platform, so whether you choose the best cheap PC controller or an expensive one, you won't have any trouble connecting it to your computer. With gaming platforms like Steam, you won't even have to worry about drivers anymore. Everything has become plug'n'play.
What controller is best for Steam?
DualShock 4 is widely considered the best option for Steam gamers. This has been the case ever since the platform provided a driver that allowed gamers to use their PS4 controller on PC without needing to install anything else. For players that don't have this gamepad, there's always the Xbox One controller, which also has a reputation for being the best controller to use for PC.
Do PC gamers use controllers?
Yes, of course. While many PC gamers are vocal about their disapproval of PC game controllers, the fact remains that a lot of modern games are designed to be played on the console.
Can I use a PC controller for drones?
PC controllers are not compatible with drones. Each packaged drone comes with a special controller or with a phone app.
What controller do pro gamers use?
Xbox One Elite Controller is most popular among professional gamers. Meanwhile, SCUF devices have been gradually gaining popularity in recent years. But the best PC controller for dominating leaderboards and online matches is the Xbox One controller.
Leave your comment
Your email address will not be published.