How To Stream Mobile Games on Twitch
Some of our stories include affiliate links. If you buy something through one of these links, we may earn an
affiliate commission.
Mobile gaming is seeing a surge in popularity, and it's no wonder: With games like Call of Duty, PUBG, Minecraft, Among Us, and Fortnite in their back pocket, fans are hungry for more content.
Thanks to that, the audience for live streaming of mobile games on Twitch is growing, so if you're wondering how to stream mobile games on Twitch and join the fun, we're here to tell you about the best ways to do that.
Live Streaming Mobile Gameplay
There are a few ways to stream games from your phone or tablet. The easiest solution would be to download either the Twitch app or a third-party solution like Streamlabs.
Streaming apps are not your only choice, though: You can cast your mobile screen on your computer and stream through it. Unfortunately, this can often be rather complicated, especially since there are apps with the same functionality as desktop software.
The two main questions here are how to stream from your phone to Twitch, and what do you need to do so? For any of the solutions, besides a mobile device, you'll need a Twitch account and a mobile game you want to stream.
Streaming with screencasting would require a computer, microphone, headset, webcam, and additional software to sync everything. That's why we focused on mobile-centric solutions for streaming anytime, anywhere, with just the equipment in your pocket.
The Twitch App: The Obvious Choice
Using the Twitch app seems like a no-brainer now that it's finally possible to stream mobile games to Twitch through it. However, the app is still in development, and the Stream Games feature is available only as a beta version. As a result, it lacks some quality-of-life features. On the plus side, the Stream IRL (in real life) content option was present on the platform for a while now, and it's great to see mobile games added as well.
You don't have to jump through hoops to set up your stream. Just press the camera button at the top of the screen and choose the Stream Games option.
After that, the Twitch icon will pop up in the top left section of the screen. Pressing it lets you choose the way to start mobile game streaming and unmute your microphone, the activity feed, and chat. You can reply in chat as well - just press the chat button.
Unfortunately, the Twitch app doesn't support overlays yet, so you won't be able to add them to your broadcast in the beta version.
The app is available on Google Play and the App Store. According to Twitch, it works on both low- and high-end tablets and smartphones without issues.
Keep in mind that the complete content from your screen is visible while you're mobile gaming and live streaming. Unless you switch on "Do Not Disturb" mode, all notifications, messages, and calls will be visible on the stream.
You won't be able to stream your picture from the front camera and your live gameplay simultaneously, either. Thankfully, you won't need an external microphone since the app uses the one on your phone - just don't cover it with your hand.
Since the Twitch app's beta version represents a stable and solid framework for future add-ons and upgrades, we're looking forward to seeing what features will be added.
Streamlabs: Stream Mobile Games Everywhere
Before Twitch added the option to stream games directly from its app, you had to rely on third-party options to stream from a mobile device. Streamlabs is the most popular app by far on this market, thanks to its abundance of features.
As soon as you access the app, you can log in to the streaming platform of your choice. Besides Twitch, you can stream on YouTube, Facebook, or via Custom RTMP. Since we're focusing on mobile-game streaming on Twitch in this article, we'll disregard other streaming platforms for now.
After logging in with your Twitch credentials, you will be prompted to enter the confirmation number, and then you'll need to authorize the app to use your microphone.
You can download Streamlabs for free through Google Play and the App Store, but some functions are locked behind a paywall.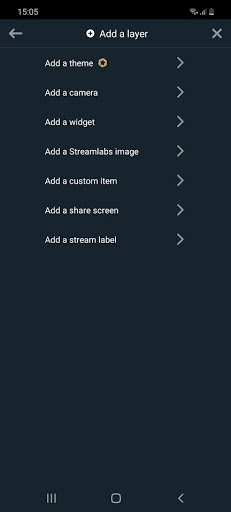 Unlike the Twitch app, Streamlabs offers plenty of overlays to spice up your stream, so your next step would be to choose one.
Besides adding custom elements and widgets, you can add a camera layer to stream your picture from the front camera while you play. Just remember to keep your thumb away from the camera lens: That's a pro tip we learned the hard way while figuring out how to stream to Twitch from our phone.
Even the free version of Streamlabs contains more features than Twitch. Adding the premium plan to the mix makes it an even better tool for mobile streamers, as subscribing to Streamlabs Prime lets you quickly import themes to personalize your overlay.
Since Streamlabs is not limited to a single streaming platform, it also has a Multistream option for paying customers. You'll be able to stream to Twitch, Youtube, and Facebook simultaneously.
Conclusion
We hope you now know how to set up a Twitch stream from your phone. We're pretty sure that, eventually, the official Twitch app will be everyone's first choice. However, while it's still in beta, it's nowhere near good enough to knock Streamlabs off the mobile games streaming throne.
FAQ
How do I stream on Twitch Mobile?
You can simply access streaming in the Twitch mobile app by pressing the top navigation bar's camera button. You will be able to choose between the Stream IRL option and Stream Games. For more details, you can read our guide.
Can you stream mobile games on Twitch?
Yes! There are a few alternatives to using the Twitch app, like third-party software, or casting your mobile screen on your desktop. Using apps like Streamlabs requires less setup, hardware, or additional software, though - all you need is your phone and a game you intend to stream.
How can I stream on mobile?
Mobile streaming is fairly straightforward nowadays, with plenty of apps to help you stream your games with minimal setup. Just download a streaming app like Streamlabs or Twitch, log in to your account, and start streaming! If you're not sure about the details, read our "How to stream mobile games on Twitch" guide.
Leave your comment
Your email address will not be published.
With a degree in humanities and a knack for the history of tech, Jovan was always interested in how technology shapes both us as human beings and our social landscapes. When he isn't binging on news and trying to predict the latest tech fads, you may find him trapped within the covers of a generic 80s cyberpunk thriller.