How to Download Twitch Clips: Saving Epic Moments for Posterity
Some of our stories include affiliate links. If you buy something through one of these links, we may earn an
affiliate commission.
Twitch has recently evolved into a go-to destination for gaming fans who wish to watch their favorite streamers for hours on end. During these many hours of streaming, viewers are likely to have favorite moments that they want to save or share. Also, if you missed a brilliant moment during a stream, you'll appreciate that someone made a clip of it.
But after revamping its interface, Twitch removed the download clip option, and you won't find a convenient one-click solution directly on the platform. If you're trying to figure out how to download Twitch clips, you're in the right place. We'll walk you through the most convenient and most popular methods in this helpful guide.
Clipr: Clip Downloading Made Easy
The most common way of downloading clips from Twitch is by using a separate service or software. Clipr is one of the more popular options to download Twitch videos. It's designed especially for Twitch, ensuring a straightforward process.
The first step is getting the URL for the video you want to grab from Twitch. Simply copy the address and log into clipr.xyz. Paste the address and click the "get download link" button.
Keep in mind that you can only paste links using the "https://clips.twitch.tv/..." format. From there, hit the "click to download" button, and Clipr will grab the file for you.
Clipr is remarkably easy to use, and anyone who wants to download Twitch clips won't have a problem figuring things out.
Bear in mind that you can do the same for VODs. When you open Clipr's homepage, click on "Video Downloader."
As you can see, the URL format is "https://www.twitch.tv/videos/…" but the process is the same. Since VODs are longer and larger than clips, you'll need some editing software to create a clip from the original file. That's why our next option for downloading videos and clips is quite interesting.
Clideo: Download, Cut, and Edit Videos Online
Another impressive Twitch VOD downloader is Clideo. To get started, either copy the URL from the browser or hit "Share" and copy the link.
After adding the URL you wanted, Clideo will need a few minutes or more to load, depending on the size of the video.
From there, you'll be greeted with a simple yet effective video editor for cutting clips.
You can select the part of the video you want by either adjusting the sliders or by entering the timeframe. After selecting the snippet, you can extract or delete that part of the Twitch clip. Clideo can add both the "fade in" and "fade out" effect to the clip you are extracting.
In addition to MP4, you can choose between multiple different formats, which Clideo suggests by default. File extensions include FLV, M2TS, F4V, ASF, AVI, 3GP, and 3G2.
After processing the video, you can make additional edits using other tools that are available with Clideo.
The videos you edit with Clideo for free will have a watermark unless you create an account. Only premium users can edit files larger than 500 MB. As such, Clideo isn't as convenient as a Twitch video downloader, but users with a subscription will find its features more than worthwhile.
Chrome Browser Extension for Downloading Clips
If you miss the convenience of having the download button on Twitch right next to the video you're watching, you'll be happy to know that there are some alternatives.
There are a few solutions available on the Chrome Web Store. The most popular among users is the Twitch Clip Downloader. But this downloader has been plagued by complaints lately, with users saying they can't save Twitch clips while using the extension. Thankfully there is another option called Twitch Clip Downloader 2020.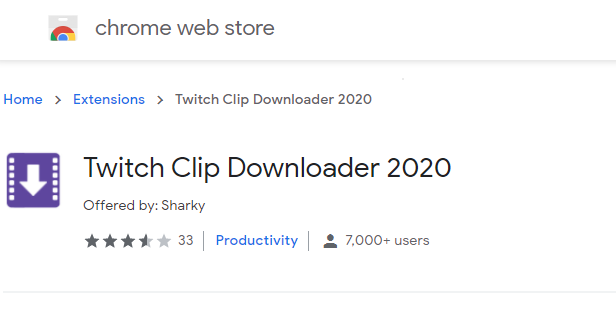 This is an ultra-fast, lightweight solution that enables you to download any Twitch video with just a click. You can add the extension to your browser through the store.
When you're on a browser tab and twitch.tv is open, you'll be able to set up some of the extension's limited options. The extension works on clip pages. When you hover with your pointer over a clip, it will shift down slightly, and the "Download Clip" button will appear.
After clicking the button, the Twitch clip download will end up in your default download folder unless you've checked the "Save As Enabled" option.
Choosing the Resolution
While Clipr and Clideo are fast and easy solutions for downloading, they don't offer you an option to choose the video's resolution. Enter UnTwitch. This popular website will allow you to download VODs, highlights, or clips. First, copy the URL for the video you want to download and pop over to untwitch.com.
Here, you can download the Twitch clip in all the resolutions that are available on the streaming platform itself. We prefer the highest quality available, which is why we chose 1080p and 60 frames per second.
Using the Inspect Tool to Download Clips
We've covered a range of simple methods for downloading video files from Twitch. However, there is a slightly more complicated method that won't require you to use other websites and extensions. All you need is a browser like Chrome or Firefox that has an "inspect tool."
First, open up the video that you want to download. We'll use Markiplier's trip to The Forest for this example in order to learn how to download clips from Twitch manually.
Right-click anywhere on the video and press Inspect from the drop-down menu. Open the window, which showcases what the page code looks like.
As you can see, we have the video element highlighted within the code. We'll delete those elements until we get to the page code section holding the link to the video.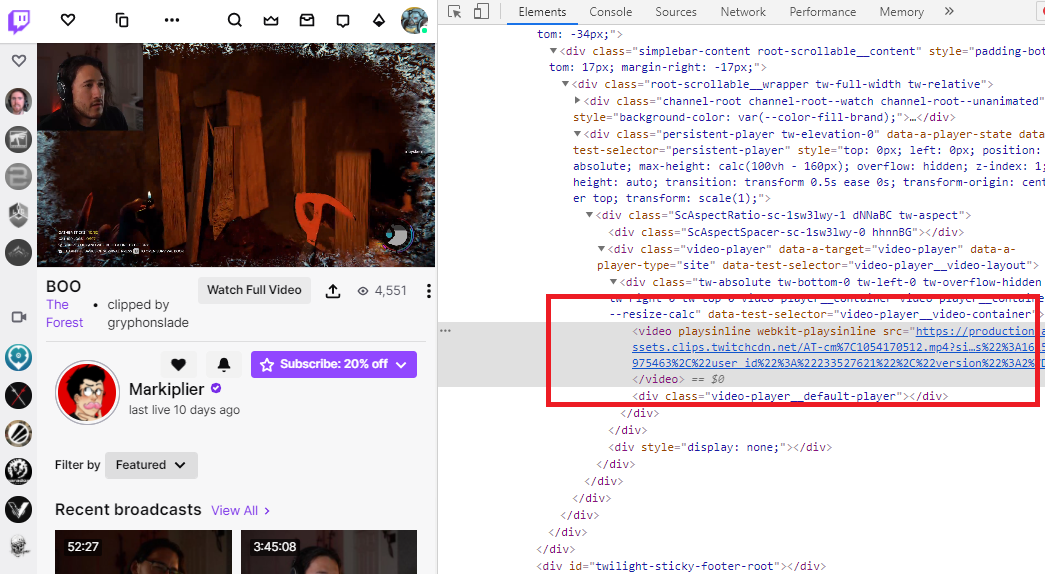 Now we've found the section that has the video link source. You can apply this method for any video page on Twitch, and you can use it to download clips from Twitch using third-party services.
To wrap up, right-click on the highlighted link and choose the "Copy link address" option. You can now paste this link in your address bar, and the download will start automatically.
Why Downloading Twitch Videos and Clips Matters?
You've probably noticed that Twitch streams aren't automatically saved on channels. The streamers themselves are left to decide if they wish to archive their streams.
There are other limitations too. For example, Youtube saves and holds the uploaded video indefinitely unless it's deleted. Twitch, on the other hand, has a time limit on how long clips can stay on the website. Therefore, knowing how to download Twitch clips is pretty useful.
If you aren't an Amazon Prime user, you can only access the 14-day archive for the channels that you're following. With the Prime subscription, you can access the 60-day archive, and if you're a Twitch Partner, the platform can save your streams for 60 days as well.
Highlights are treated differently and can stay on the Twitch account indefinitely. Unlike clips, highlights are longer and can be the size of a full video. These are made by the channel's owner, while anyone can create clips.
Having the option of downloading Twitch clips and videos is invaluable, allowing fans to preserve epic gaming moments and promote their favorite streamer.
FAQ
Can I download my Twitch clips?
Yes, you can. There are several websites and browser extensions that are easy to use and can get the job done relatively quickly. 
How do I save a Twitch video as an MP4?
Most of the methods covered in our guide will allow you to download a Twitch clip or video as an MP4 file. However, Clideo allows you to choose between different file formats like LV, M2TS, F4V, ASF, AVI, 3GP, and 3G2. 
How do you download Twitch videos on mobile?
You can download a clip or video from Twitch the same way you would on a desktop computer. The easiest way is to copy a link to the video you want to download and use a website like Clipr to download the file. To learn about other methods, check our guide on how to download Twitch clips. 
Leave your comment
Your email address will not be published.
With a degree in humanities and a knack for the history of tech, Jovan was always interested in how technology shapes both us as human beings and our social landscapes. When he isn't binging on news and trying to predict the latest tech fads, you may find him trapped within the covers of a generic 80s cyberpunk thriller.