AOMEI Backupper Review
Some of our stories include affiliate links. If you buy something through one of these links, we may earn an
affiliate commission.
The Hong Kong-based AOMEI Technology is a leading brand in the field of data protection and backup tools. In a little over a decade, the company helped millions of users backup, restore, and clone their systems.
Our AOMEI Backupper review delves deeper into this app, its different tools for backing up and restoring files, as well as its desktop and mobile versions. We'll also compare the free and premium versions and check out all of the pricing plans for this cloning software.
Like in all of our reviews, we'll test the app to determine the quality of the user experience and examine how it fares against the competition. But first, we need to take a look at all the features and tools that AOMEI Backupper has in store.
Show More...
SPECIFICATIONS
Automated and manual backups
Create bootable media
Supports Windows 11
Partition and drive cloning
Backup sync and merging
Manage and organize your backups
Easy to use
Various backup methods
Lifetime support and upgrades
Easy backup management
System repair and restore
Desktop version is for Windows only
Slower than competition
AOMEI Backupper Features
AOMEI is focused on securing user data, and its backupper is more than just a simple backup tool. The key selling points are the manner in which the app works and all the different ways it allows you to create a PC backup.
Backup Tools
As the name implies, the main function of AOMEI Backupper is backing up data. That's why we chose this as the starting point of our AOMEI Backupper review. The app employs multiple backup and recovery methods, with support for both PCs and smartphones. All backups can then be sent to another internal HDD or SSD, USB drive, or NAS, shared over network, or uploaded to cloud storage.
File backup: All types of files, whether they're multimedia, system files, or documents, can be backed up with this tool. The app offers automated backups, either scheduled or on a recurring basis, as well as backups solely for the files that don't match the backuped copies.
System backup: AOMEI Backupper freeware can also create a copy of the Windows operating system and boot partitions, allowing you to quickly restore files in case of any system failure. The tool is capable of detecting and backing up all of the hidden files and folders, making the restore process as simple as pressing a button. This is recommended during Windows installation to avoid backing up any unnecessary, junk, or temporary files.
Create bootable media: In addition to the aforementioned system backup that we examined during our review of AOMEI Backupper, the software can also make a bootable drive that includes any additional files and apps you have installed on your PC. It can then burn the data to a CD/DVD, store the image file anywhere you'd like, or turn a USB into a bootable drive with that data.
Partition backup and cloning: You can create an exact copy of the whole drive or one of the partitions with just a few clicks. The AOMEI Backupper for Windows 10 can either copy the partition to another drive or create an image and compress it for easier storage. If you're running a RAID setup on your computer, the app can detect it and offers to save the backups on your RAID. Of course, only the used sectors of a disk are backed up.
System Restore
The other part of the Windows backup process is restoring the backed-up files. An entire section of the software is dedicated to this task, offering you the choice to restore via a previous backup or an image file. This includes partition restoration, which we glossed over earlier in our AOMEI Backupper Standard review.
Depending on whether you're restoring to the same Windows machine or a new PC, this process can override partition settings and files. That's why it's best to move any existing important files to another drive just in case. Obviously, when running a restore operation from a bootable drive, you won't need to run this app as everything is automated by the autorun file. The app also allows for selective file restore and drive cloning which is the best option for a total hard disk backup. With ransomware attacks on the rise, this is a great tool to have.
Backup Management
Positive online AOMEI Backupper reviews only serve to confirm our assessment of the efficiency of the app's extra tools for managing different backups. Each backup you create is marked as a task in the app, and you have the option to add a comment if you need to be reminded of what that particular file backup includes. This will help you avoid situations where you backup photos and forget which ones are backed up.
Moreover, when you mount the image, it'll appear as a virtual partition you can browse through Windows Explorer. This is called a recovery environment, and AOMEI Backupper on Windows 7 and newer versions can set it as one of the boot options.
Lastly, the software keeps all the logs and can send email notifications, so it's easy to keep track of your backups.
AOMEI MBackupper
If you need to backup an iPhone or any other iOS device, AOMEI has another app called MBackupper. This is a completely free backup tool that can backup messages, contacts, and various multimedia files from your iOS device to a PC or another iPhone. It requires at least an iPhone 4, and you can quickly learn how to transfer data from iPhone to iPhone thanks to a tutorial on AOMEI's website.
AOMEI Backupper Pricing
The free version of the software should be sufficient for all your personal backup needs. That said, this option comes with certain limitations. More specifically, it lacks the option for system migration, CD/DVD writing, and some advanced sync features.
For that, you'll need to purchase a one-time upgrade to the Professional version. This is one of several premium licenses available and also the most affordable one. AOMEI Backupper Professional costs $49.95, and with that single purchase, you'll have lifetime support and updates whenever a new version is released. It's also faster and can run from command prompt in case of Windows failure. Finally, purchasing any of the premium plans gives you access to 24/7 support.
Business users will want to look into one of four plans:
Workstation - $49.95 (1 PC/license)
Server - $199.00 (1 server/license)
Technician - $559.20 (unlimited PCs + 1 technician license)
Technician Plus - $899.10 (unlimited PCs and servers + 1 technician license)
The Workstation and Server plans are very similar to the AOMEI Backupper Pro. The only differences relate to LAN capabilities and the fact that the Server plan supports Windows Server operating systems. Finally, the Technician and Technician Plus plans are designed for professionals that provide technical support via backup tools. Suffice to say, all business plans also come with 24/7/365 support and lifetime upgrades. AOMEI offers a free 30-day trial for all premium apps, so you can try them risk-free.
The pricing is a bit different for the MBackupper app, and it's a completely separate purchase from the AOMEI Backupper Standard edition. Here's a quick breakdown of the pricing:
Pro 1-year license - $25.46 (5 PCs)
Pro lifetime license - $29.97 (5 PCs)
Tech 1-year license - $249.00 (unlimited PCs)
The MBackupper license isn't a purchase-and-forget-it kind of deal - you have to manually set the Standard license to recurring. Arguably the best value is the Pro lifetime license, which grants free updates as long as you're using the app. Similar to the Technician plans, the Tech license allows you to use MBackupper for commercial purposes.
Includes:
Backup to local and cloud storage
Includes:
All Professional features
AOMEI Backupper Platform Availability
As mentioned in the previous section of our AOMEI Backupper review, this app is designed for Windows OS only. Unfortunately, it isn't available for macOS and Linux yet. But its compatibility with Windows is remarkable. In fact, it's one of the rare modern apps that still supports Windows XP, which is also the minimum system requirement for running this software. You can also run it on Windows Vista/7/8/10, with Windows 11 support on the way. It runs on both 32-bit and 64-bit systems.
Since there are plans for servers, you can download AOMEI Backuper and install it on your Windows Server machines. For this edition, your server needs to be running at least Windows Server 2003. All newer versions are supported, along with Windows Server 2019 R2.
On the mobile side of things, MBackupper requires at least an iPhone 4s and runs on all versions of iOS up to the current one.
AOMEI Backupper User Experience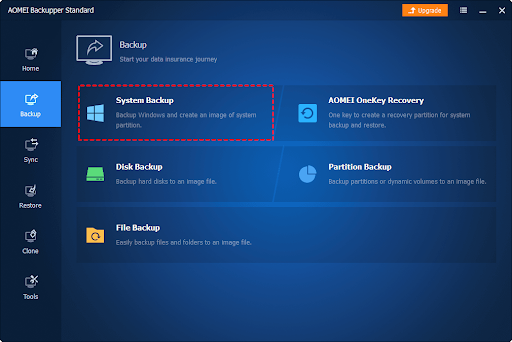 Backup software might be powerful and versatile, but it can often be confusing for inexperienced users. Luckily, that's not the case with AOMEI Backupper. Learning how to use AOMEI Backupper takes mere minutes and mostly involves remembering where each of the options is.
The layout makes everything easy to understand. You just have to look at the left sidebar. You can choose to backup music and other files, restore them, sync up with a previous backup, or clone a drive. Just click the tab, and you'll be greeted with several big icons accompanied by clear descriptions. The font size leaves something to be desired, but that's really the only downside of the UI.
As for the AOMEI iPhone backup app, it's even more streamlined. There's only a handful of buttons on a single screen, and they're pretty self-explanatory. In short, you don't have to worry about mistakes like pressing to backup contacts when you want to backup videos.
Alternatives
Automated and manual backups
Create bootable media
Supports Windows 11
Partition and drive cloning
Backup sync and merging
Local and cloud backups
System restore
Compatible with Microsoft 365
Dual protection
Continuous backups
Cloud backup
Unlimited storage
Remote management
External drives supported
Data shipping (charged extra)
AOMEI Backupper Support
Online AOMEI reviews echo our disappointment with the absence of some of the most popular customer support channels. You can only get in touch with support agents via email. There's no live chat option on the website, meaning that you'll have to wait for up to 24 hours before getting a response to your inquiries. But the website hosts many video tutorials and documents, outlining all the features and providing helpful tips on how to use the software in the most optimal way.
Conclusion
The praise in our AOMEI review is well deserved. Compared to many similar apps, it's fairly easy to use, versatile, and, best of all, completely free for personal use. Yes, it may not be as quick as some of the alternatives, but it gets the job done. Whether you need to use it for an iPhone backup, a data protection tool, or you're a professional in this field, AOMEI Backupper will be a good addition to your toolkit.
Recommended Reviews
Digiarty VideoProc Review
FAQ
Is AOMEI Backupper Any Good?
Yes. It's a very handy tool for all kinds of PC backups, partition cloning, and system restoration. You can try it completely free and see for yourself why it's so highly rated.
Yes, the standard edition of this software is completely free to use for as long as you like. That said, upgrading to one of the premium versions unlocks additional features and delivers greater speeds than what you get with the free backup.
How Much Does AOMEI Backupper Cost?
Aside from the free option, there are several premium versions with more features and licenses for commercial use. The lowest AOMEI Backupper price is $39.95 for the Professional package, while the most expensive plan is $899.10, which tailors to repairmen that use these kinds of apps on servers.
Is AOMEI Backupper Better Than EaseUS?
Both apps have their pros and cons, with customers praising them for a variety of different reasons. Since both have free trials, we recommend trying out each one to determine which option is more suitable for your individual needs.
Is AOMEI Good for Cloning?
Yes. Our AOMEI Backupper review points out that this is one of the tool's strongest features. It's capable of cloning whole drives and partitions, along with on-the-fly compression and version checking.
Leave your comment
Your email address will not be published.