TeamSpeak vs. Discord: A Detailed Comparison Between Two Platforms
Some of our stories include affiliate links. If you buy something through one of these links, we may earn an
affiliate commission.
TeamSpeak
Discord

Better security and privacy
Private servers
Three audio codecs
Better audio quality
Less latency
Eats up less RAM/CPU/bandwidth

Beautiful interface
Easy to use
Robust social features
Create servers for free
No input lag
Twitch integration
Video game Quick Launch

Outdated interface
Not beginner-friendly
Charges for server hosting
Buggy Overwolf overlay

Privacy issues
Better bitrate and video quality behind a paywall
The Old Guard Versus Young Blood
Discord reigns supreme in the Voice over IP market. Immediately after its launch in 2015, Discord became a fan-favorite, accruing 10 million monthly active users in the first year. Fast-forward to 2021, and the numbers have increased tenfold, currently standing at 100 million. TeamSpeak, on the other hand, celebrates its 19th birthday this year and stubbornly clings to a smaller but loyal portion of the user base.
Current popularity aside, in a TeamSpeak vs. Discord head-to-head match-up, which one actually provides a better service? The older VoIP application has practically pioneered gaming-focused voice chat services as we know them, but does it still have what it takes to match a shiny, feature-packed aspirant like Discord?
We set out to find the answer, comparing them across multiple fronts - performance, bandwidth, interface, security, audio quality, and more.
How Do TeamSpeak and Discord Work?
If you're new to the VoIP market, you might be wondering what is TeamSpeak, actually? When we compare Discord vs. TeamSpeak, it quickly becomes evident that their core functions are very similar.
With TeamSpeak, users control their accounts, which they use to connect to various servers. You can either connect to servers manually by typing in an IP address or server name or browsing the public TeamSpeak server list. Individual servers can be split into several lobbies, usually by interests, server status, or games.
Discord also relies on a server-based structure to house different groups of people, and you can browse public Discord servers. However, this is the first important point at which Discord and TeamSpeak diverge significantly.
In a TeamSpeak 3 vs. Discord faceoff, you can see that the whole joining and browsing process is considerably less streamlined with the former. For example, while TeamSpeak lets you browse public servers by country only, Discord divides them into categories like gaming, music, etc. In general, while it may have started as a gaming-oriented VoIP app, Discord has since transformed into a social service used by people from all walks of life: Fan groups, university cohorts, friends, and even companies have Discord servers, while TeamSpeak is still predominantly reserved for gamers.
Discord vs. TeamSpeak 3: Interface Differences
Discord makes joining other people's servers and inviting them to yours pretty easy. You can create direct invites or membership links. Besides, Discord has a 'Friends' system for managing your contacts, messaging, or creating private audio and video calls.
TeamSpeak also has a Contacts tab, but it's very barebones. You can save other people's credentials and send them direct messages, but that's about it. The beta version of TS currently in testing might have improved on this, but we couldn't get access to it for our TeamSpeak vs. Discord comparison.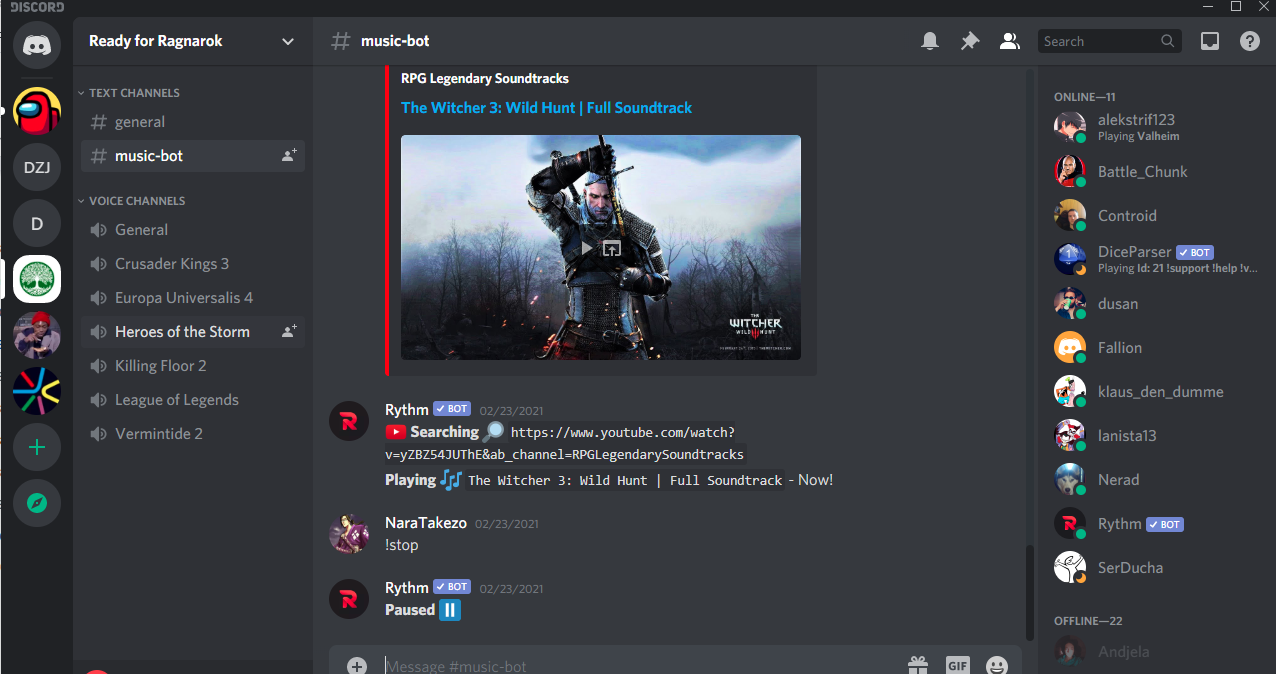 Not to be superficial, but we think everyone can agree that Discord looks much prettier than TeamSpeak. Its slick interface is practically already in dark mode, so your eyes won't be straining. On the other hand, TeamSpeak's outdated, albeit minimalistic, UI is often difficult for new members to get the hang of. To be fair, screenshots of the aforementioned closed beta for TeamSpeak 5 indicate that a massive overhaul of the interface is in the works. Unfortunately, at the time of writing, the improvements weren't yet available to the public.
Discord vs. TeamSpeak: Bandwidth Comparison
Network bandwidth usage is another crucial aspect these two VoIP applications approach differently. Bandwidth is vital for several reasons: First, many people still rely on limited bandwidth packages, so anything they save up is worth its weight in gold. Second, increased bandwidth often raises your ping to astronomical heights when playing games. Gamers - pro gamers especially - need to keep their ping down, as even the slightest hiccup can have grave repercussions, particularly in FPS games.
Bandwidth-wise, TeamSpeak wins the TeamSpeak vs. Discord battle. The fact that Discord offers both video and audio calls, a plethora of emojis and gifs, the creation of custom emoticons, and has a much more demanding interface overall comes at a cost. The cost is that Discord bandwidth usage reaches unfortunate heights, to say the least. TeamSpeak, with its very rudimentary interface, uses up significantly less.
However, users that do not play ping-sensitive games, or have stronger connections with unlimited bandwidth, might prefer the beautiful interface and social features Discord offers.
TeamSpeak vs. Discord: Audio Quality
As the name VoIP would suggest, voice chat is the primary function for both Discord and TeamSpeak. Hence, the level of audio quality offered is a necessary factor for assessing the quality of either app. So, which one of these services performs its most important job better?
To start, let's take a look at their audio codecs. Codecs are devices or programs that compress audio data for transmission. Every codec has a unique compression algorithm, so using different codecs results in varying audio quality.
Ok, let's get into the Discord voice codec vs. TeamSpeak comparison: The Discord codec is the extremely popular Opus codec. Opus works across all bandwidths and bitrates; this adaptability is generally considered to supply unmatched sound quality.
TeamSpeak uses Opus, but it also relies on the CELT and Speex audio codecs. However, both CELT and Speex are now largely obsolete, incorporated into, and surpassed by Opus. However, some users might prefer the freedom TeamSpeak provides by letting you choose the codec you want to use, especially if you have a slower connection.
To boot, most participants in the Discord VoIP vs. TeamSpeak debate agree that voice chat audio quality is TeamSpeak's strong point. This becomes more evident on higher bitrates and with high-end microphones. All TeamSpeak users have access to a 100-Kbps bitrate, while Discord sound quality depends on whether you're on a free or boosted server. The free-server bitrate stops at 64 Kbps; if you want more, the highest paid subscription can bring you up to 384 Kbps. Of course, this difference affects the total bandwidth used by these programs.
TeamSpeak and Discord: Performance Analysis
Discord memory usage is a sore subject for this VoIP software. A quick Google search about Discord performance reveals that a large number of people complain about the amount of RAM the app eats up. To make things more frustrating, the exact reason for these peaks in RAM usage was never confirmed by the developers. Besides possible memory leaks, most users believe it's due to the fact that Discord uses the electron.js framework. This is the same framework utilized by Google Chrome - a browser infamous for its RAM appetite. Discord CPU usage also frequently goes off the charts. Even stronger PC setups suffer performance losses when running Discord and demanding video games at the same time. These issues can sometimes be eased by toggling Hardware Acceleration, changing the priority for the Discord process in Task Manager, and so forth, but not always.
Because the program is lightweight overall, peak TeamSpeak performance rarely requires more than 60-70 MB of RAM. Discord, on the other hand, used 200+ MB even in idle mode. All things considered, Discord is significantly more demanding than TeamSpeak.
TeamSpeak vs. Discord: Security Issues
In recent years, concerns about internet privacy have been at the forefront of public debates, which resulted in people paying extra attention to how companies handle user data. Unfortunately, neither TeamSpeak nor Discord have entirely clean records on this front. Both services collect user-related data about IP addresses, behavior, demographics, interests, and so forth.
Discord's privacy policy states that it collects all this data and that it may be shared with affiliates, partners, or other third parties, but that Discord will not explicitly sell it for monetary gain. This isn't very reassuring, and, as you can imagine, Discord privacy concerns are still present. They were further raised when it became evident that Discord can investigate private messages and divulge user information to the authorities. So far, this was only used to apprehend cybercriminal groups, but who knows what the future holds?
With TeamSpeak, all user IP addresses are visible to the server admin, representing a serious security flaw. In 2018, TeamSpeak renewed its promise not to sell customer information, calling out Discord for this behavior in the process and adding more fuel to the TeamSpeak security issues vs. Discord fire. Thankfully, most privacy concerns with both Discord and TeamSpeak can be resolved with a good VPN. What's more, TeamSpeak doesn't force users to rely on centralized servers, which massively improves the security of user data. TeamSpeak allows you to run private servers - a feature not present with Discord, as every Discord server is hosted on the company's infrastructure - and thus ensures your data remains safe and more-or-less under your control. On top of that, TeamSpeak claims it uses military-grade encryption to protect all data.
Discord vs. TeamSpeak Pricing
Finally, let's compare the pricing structure for these two services. With TeamSpeak, every feature is free besides one - hosting your own server. The TeamSpeak server costs start at $55/year for a single, 64-slot server, going up to $500/year for two servers with 1,024 slots. While we certainly appreciate that all other features, including the best possible audio quality, are available to free users, not being able to create your own server is a major drawback. This is a major disadvantage in the TeamSpeak vs. Discord battle, as the free personal server creation option propelled Discord to become much more than a simple VoIP tool for gamers.
A free Discord account gives you access to basic emojis, a degree of customization, Quick Launch for games, and other social options. However, all file uploads are limited to 8 MB in the free version, and you can't create custom emojis that can be used outside of your private server. Additionally, better video and audio quality is also locked behind the paid service called Discord Nitro. When we consider the TeamSpeak userbase vs. the Discord audience, the latter obviously prefers the freedom to create their own servers and the variety of other social options such as emojis, gifs, plugins, and bots, over sheer performance and audio quality. The Discord Nitro service starts at $9.99/month or $99.99 per year.
Conclusion
All in all, Discord clearly provides a better user experience, server creation, invites, and superb social features. This explains why Discord became so popular so quickly, and not just among gamers but the general population too.
On the other hand, the Discord vs. TeamSpeak connection quality comparison shows that TeamSpeak is the better VoIP in terms of audio, bandwidth, and performance. As such, it's still a favored application for pro-gamers, who need to keep their performance and internet connection at 100%.
Both apps come with privacy issues, but there seems to be an improvement on that front. In the end, if you just need a good voice chat app, then TeamSpeak is the way to go. On the other hand, those wanting to develop stronger social ties with their friends/teammates via video chat, emojis, and GIFs will find Discord much more enjoyable.
FAQ
Why do pros use TeamSpeak instead of Discord?
Discord latency vs. TeamSpeak test results indicate that TeamSpeak uses significantly less CPU, memory, and bandwidth than Discord. Additionally, the audio quality seems to be better on TS.
Does TeamSpeak cost money?
Only if you wish to host your own server. The cheapest TeamSpeak server costs $55 per year.
Discord leads the market due to its delightful interface, ease of use, free server creation, and unique features, such as Twitch integration.
TeamSpeak has turned 19 in 2021.
Absolutely. Even players who use some other VoIP for their gaming needs run a Discord server to connect with their fans. For many people, the TeamSpeak vs. Discord comparison is unnecessary, as they simply use both.
Leave your comment
Your email address will not be published.
With a degree in humanities and a knack for the history of tech, Jovan was always interested in how technology shapes both us as human beings and our social landscapes. When he isn't binging on news and trying to predict the latest tech fads, you may find him trapped within the covers of a generic 80s cyberpunk thriller.